The megastore at Old Trafford has been forced to shut after Manchester United fans protest against the current owners, the Glazers.
Manchester United unveiled Adidas' 23/24 kit with star boy Marcus Rashford modelling the strip on the 27th of June 2023. The kit has been released to various independent retailers, but best believe it doesn't come cheap.
This has angered fans due to the fact they know this money will be heading straight into Malcolm and Joel Glazer's pocket, despite the club being in the process of being 'sold' for quite some time now.
Desperate for them not to see a penny of it, Old Trafford faithful have taken matters into their own hands and have protested outside the megastore, where the kit was set to be dropped at 9 AM this morning.
READ MORE: Premier League kits 23/24 announcements, rumours and leaks for all clubs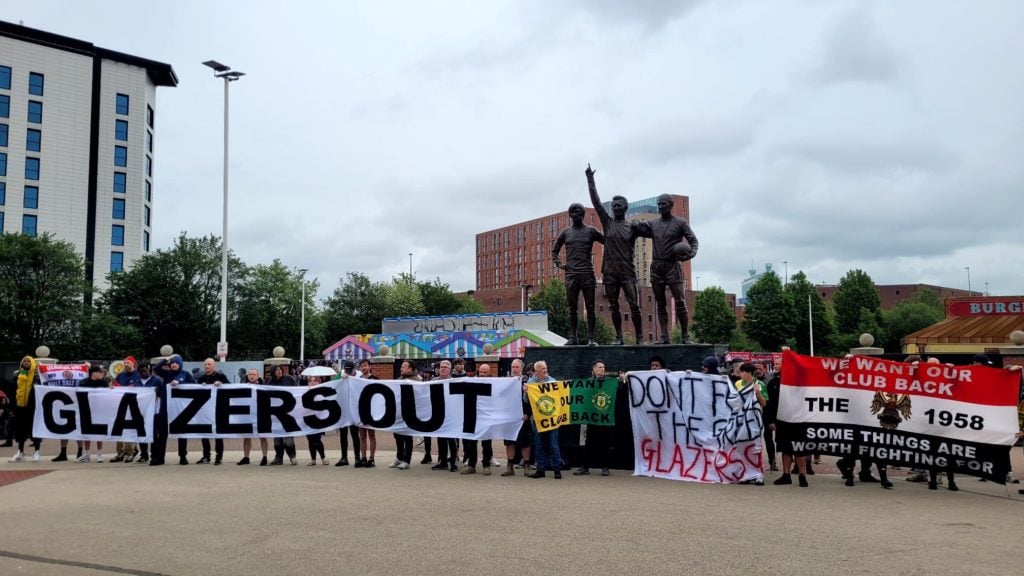 Man Utd fans shut down megastore
The fans were certainly successful, barricading the megastore entrance which thus led to the shop closing shortly after 9 AM.
The fans, obviously peaceful, were in full song making their intentions clear on for their American owners. A full sale only.
At the moment, it appears that Qatari Sheikh Jassim is the front-runner to take over the reins of the club, however, there's been also a lot of speculation about Sir Jim Ratcliffe, combined with the possibility that the Glazers don't sell up at all!
This would be the worst-case scenario for fans, who are desperate to part ways with the duo who have seemingly sucked the club of their finances for years now.
The protest won't have stopped orders flying out for the new kit online, but this is a statement as to what fans can do in order to hurry along the takeover process.
United will release their away and third kits for the 23/24 season in due time. We wonder if they'll be a need for protests when that time eventually comes.
Will you be buying the Man Utd new kit amidst the takeover controversy?
Related Topics