Everton have now released their new Hummel home kit for the 2023/24 Premier League season. So, TBR Football has ranked the Goodison Park natives' top 10 kits of all time.
The Toffees have donned some iconic jerseys throughout the Merseyside outfit's history dating back to 1878. While royal blue has been their traditional colour since 1901 after a spell wearing light blue or salmon strips. Everton have also had a number of yellow away kits.
READ MORE: Premier League kits 23/24 announcements, rumours and leaks for all clubs
Hummel has produced Everton's kits since 2020 after replacing Umbro as their technical gear provider. Umbro returned to design Everton's home, away and third kits from 2014 to 2020. The British company has also produced some of the top 10 Everton kits of all time…
10) Everton away kit, 2004/05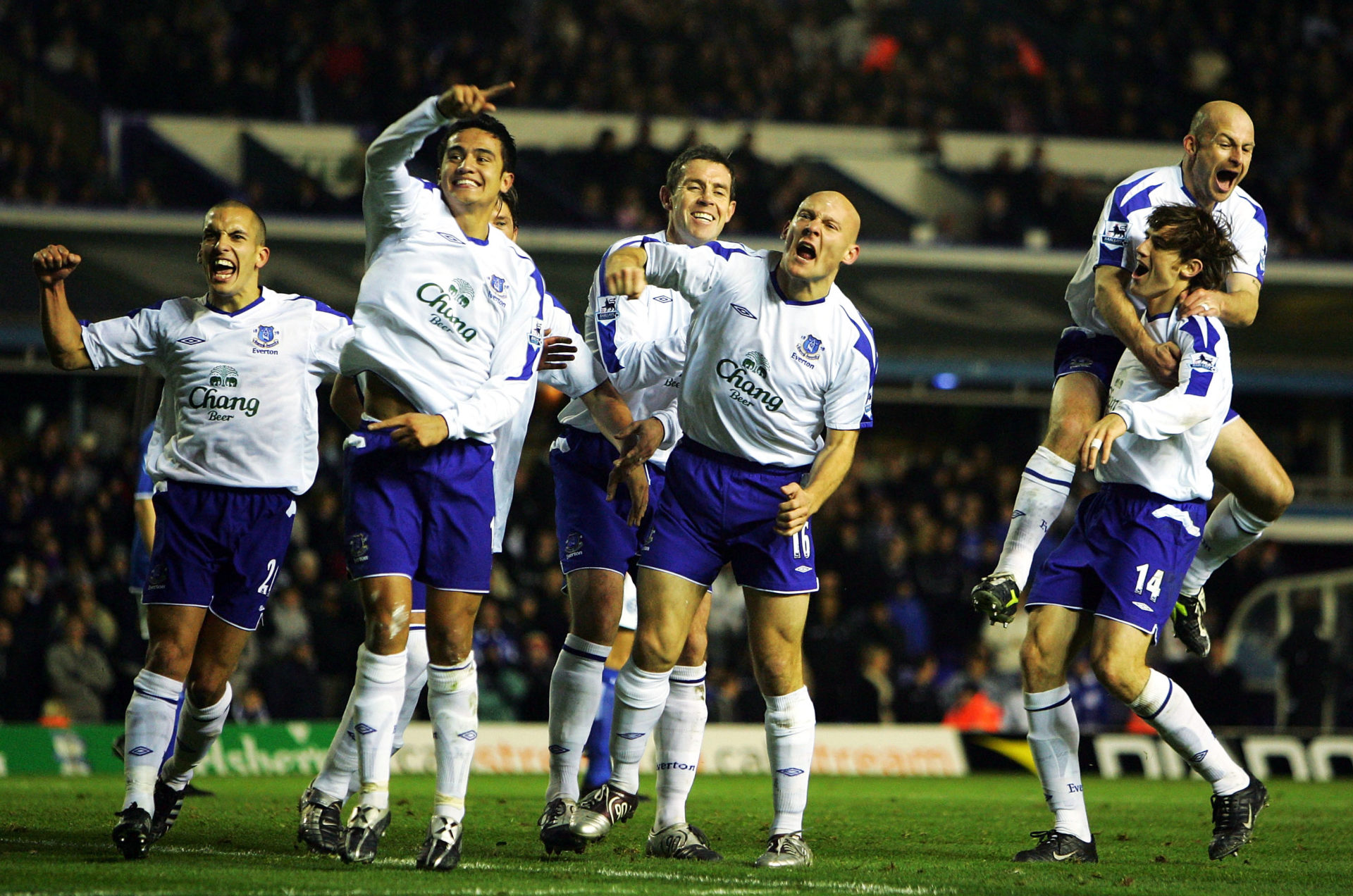 Umbro has regularly designed Everton's kits ever since the Toffees began outsourcing the production of their strips in 1974. It worked with the Toffees from 1974 to 1983, 1986 to 2000, 2004 to 2009 and 2014 to 2020. And Umbro made its mark upon returning in 2004.
READ MORE: The top 10 Premier League kits of all time, ranked
The brand designed a classic strip for Everton's 2004/05 away kit as David Moyes led the Toffees to a fourth-place Premier League finish. His squad featuring the likes of Tim Cahill and Duncan Ferguson hit the pitch in white shirts and blue shorts with opposing detailing.
9) Everton home kit, 1989-91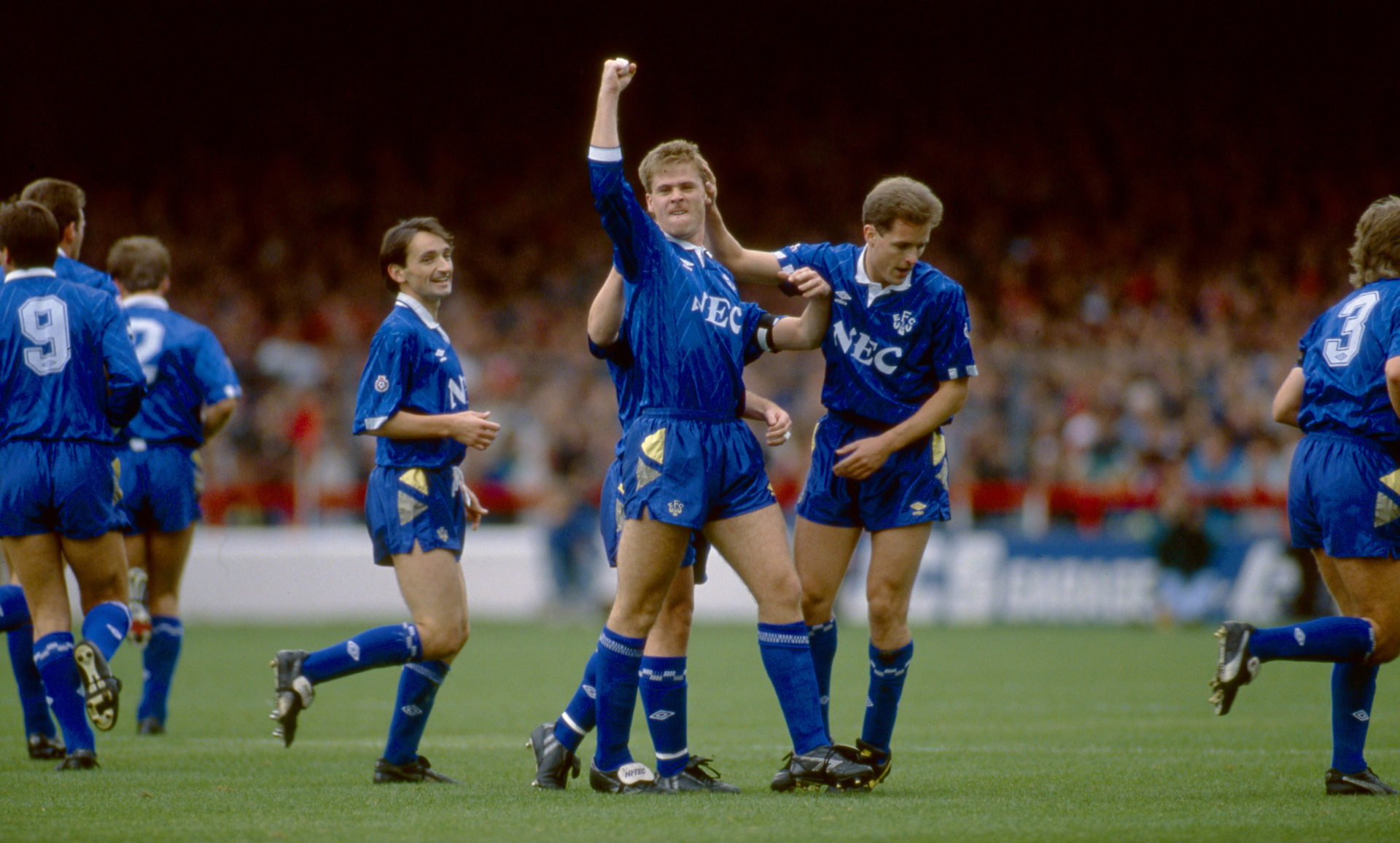 Everton retained Umbro's offering for their home kit for two seasons from 1989 to 1991. The strip featured blue shirts and socks. But the real design aspects came with the shirts as Umbro got creative as it incorporated a jagged pattern scattered throughout the chest.
Each tier of the jagged design also featured further details with Umbro incorporating an array of contrasting stripes and lines. It further incorporated a thick white collar into the design with a button-holed neck. Everton also wore the kit during the 1989 FA Cup final.
8) Everton home kit, 1991-93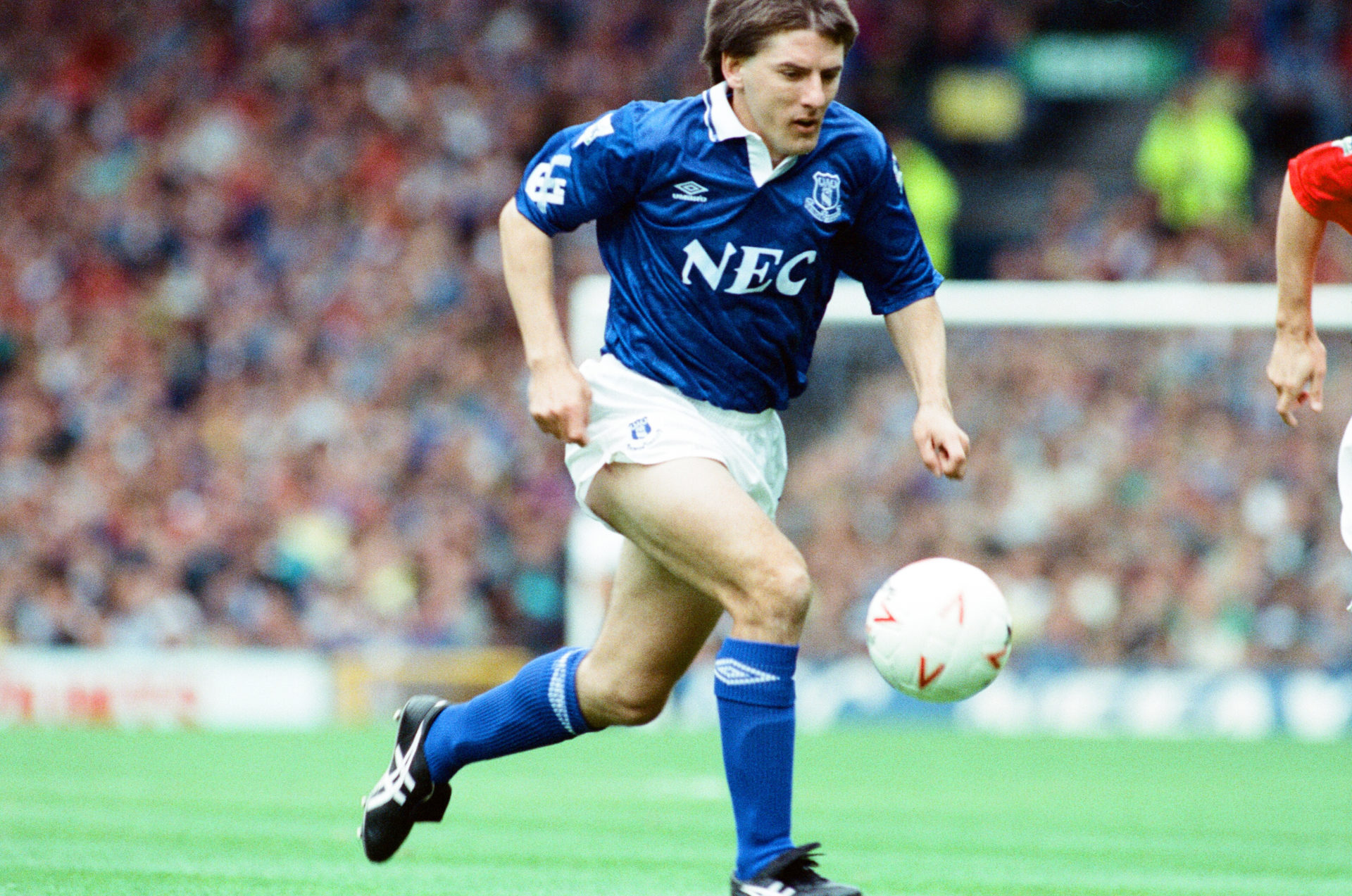 Umbro designed back-to-back classic strips with Everton's jerseys from 1989 to 1991 and 1991 to 1993. It repeated its iconic jagged kit with another creative masterpiece worn by Pat Nevin, Peter Beardsley and co as teams quit the First Division for the Premier League.
Everton donned one of their top 10 kits in the final season of the old format and the first term of the breakaway division. Umbro created a two-tone jersey with an array of arrow-like markers across the chest. It further integrated the team's initials of EFC in the kit's design.
7) Everton home kit, 2014/15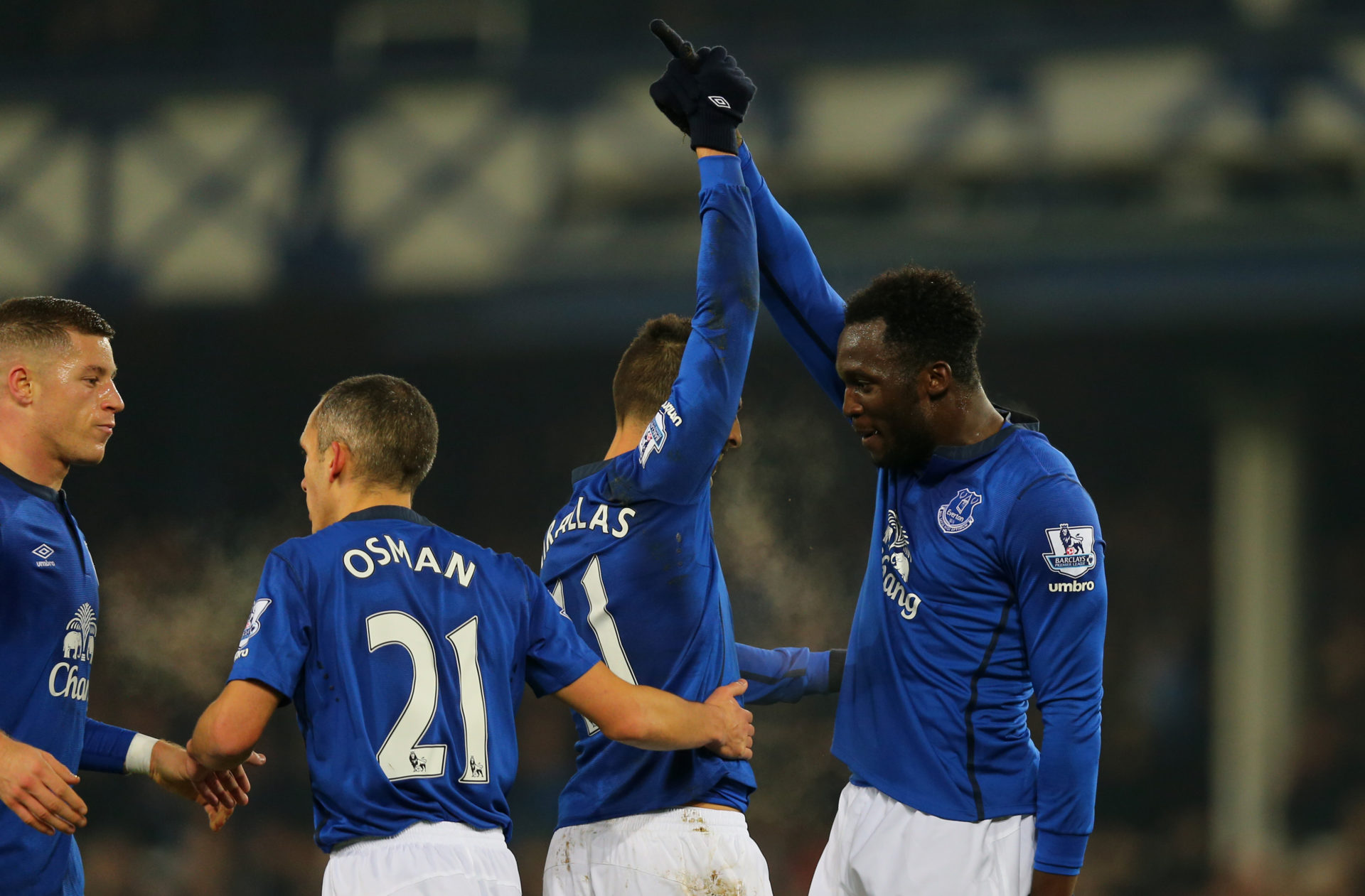 The year 2014 proved to be an important one for Everton as they paid Chelsea £28m to retain Romelu Lukaku. He had spent the previous term on loan at Goodison Park. While
the Belgian would also don one of Everton's top 10 kits after signing a five-year contract.
Umbro kept the basic design simple for Everton's 14/15 home kit with a plain blue shirt. But it enhanced the strip's design with a thin black crew neck collar, plus darker stitching on the shoulders. The darker stitched areas also continued along the sides of the chest.
6) Everton home kit, 1979-81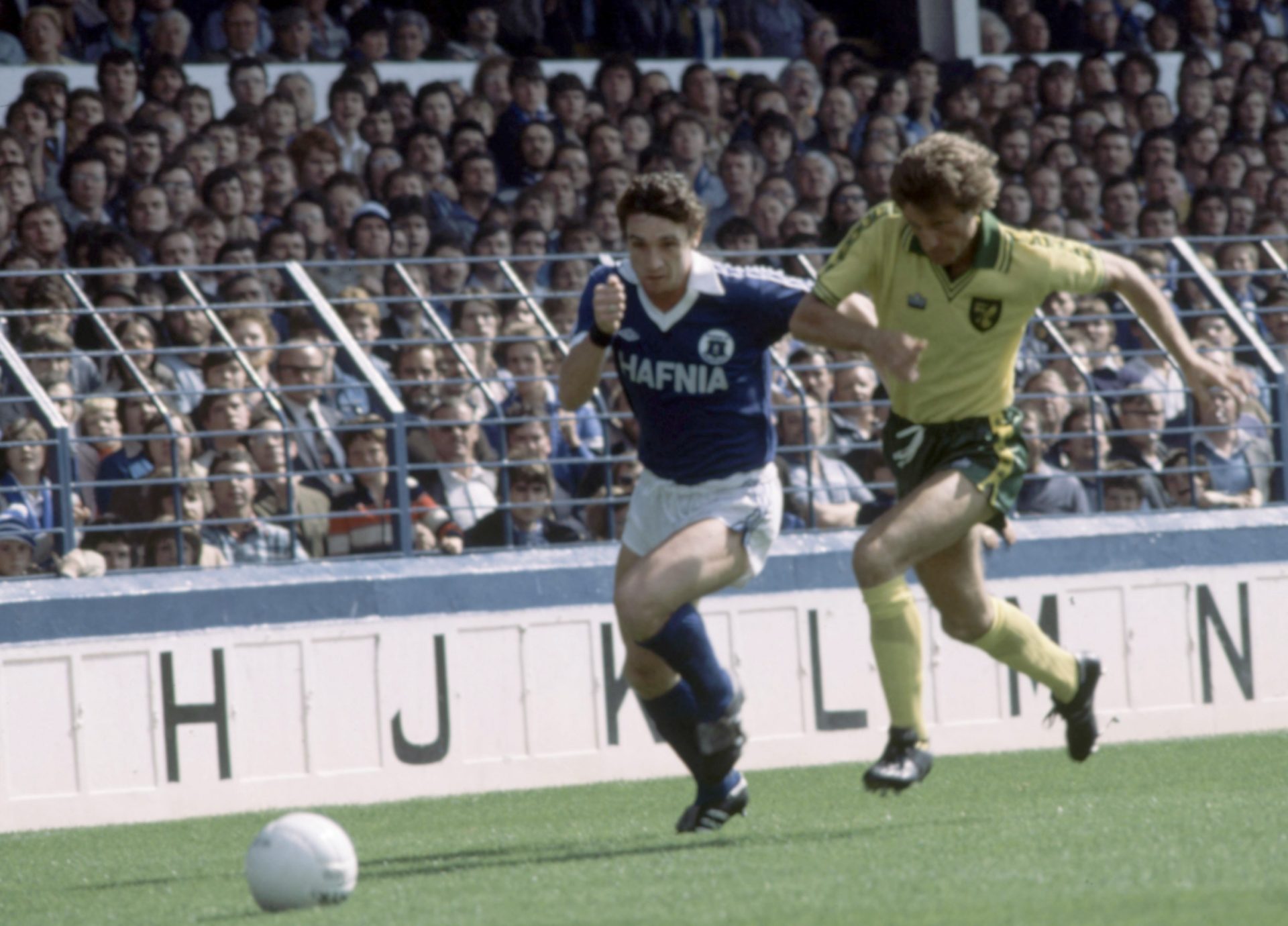 The 1979/80 season saw Everton agree to the club's first-ever front-of-shirt sponsor with Danish meat manufacturers Hafnia. That term also saw Umbro create another of the top 10 best Everton kits of all time. Its kit design would remain in use for two campaigns, as well.
Umbro refined its design for Everton's kit from the previous season and used blue rather than white socks. It was the first time in more than 10 years that the Toffees had played with blue socks. While Umbro also kept its logo along the sleeves, shoulders and shorts.
5) Everton away kit, 2021/22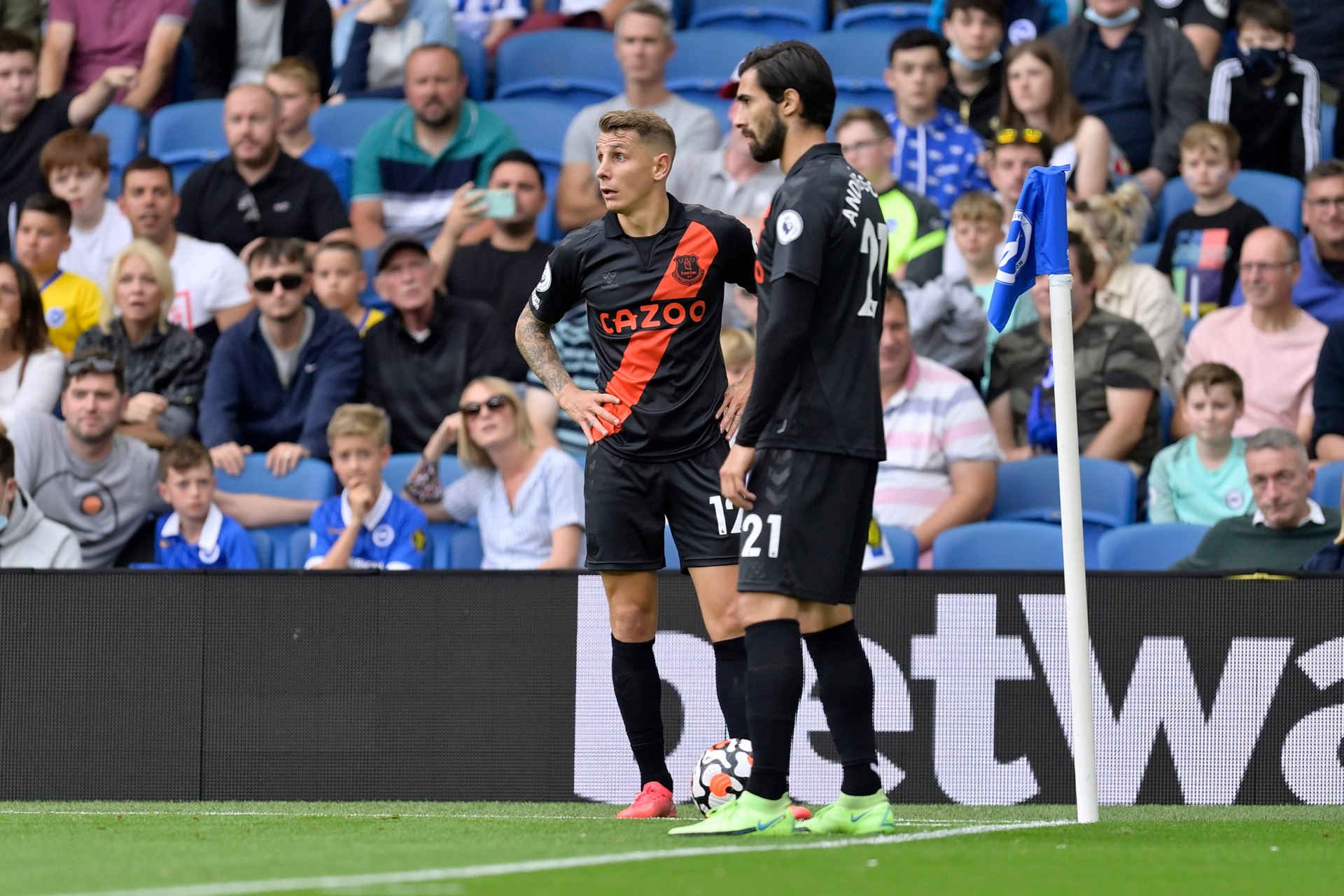 Hummel has produced Everton's kits since 2020 but it has not always produced the best strips for the Merseyside natives. That was far from the case in 2021/22, though, as the Danish sportswear brand produced a glorious black away strip with a burnt orange sash.
It further used tonal grey for its logos and trademark chevrons on the shoulders so they were barely visible. Hummel sought to ensure the shirt's design was a true reflection of Everton's home kit from the 1881/82 season. The Toffees' 21/22 kit also had a thick black collar.  
4) Everton home kit, 2011/12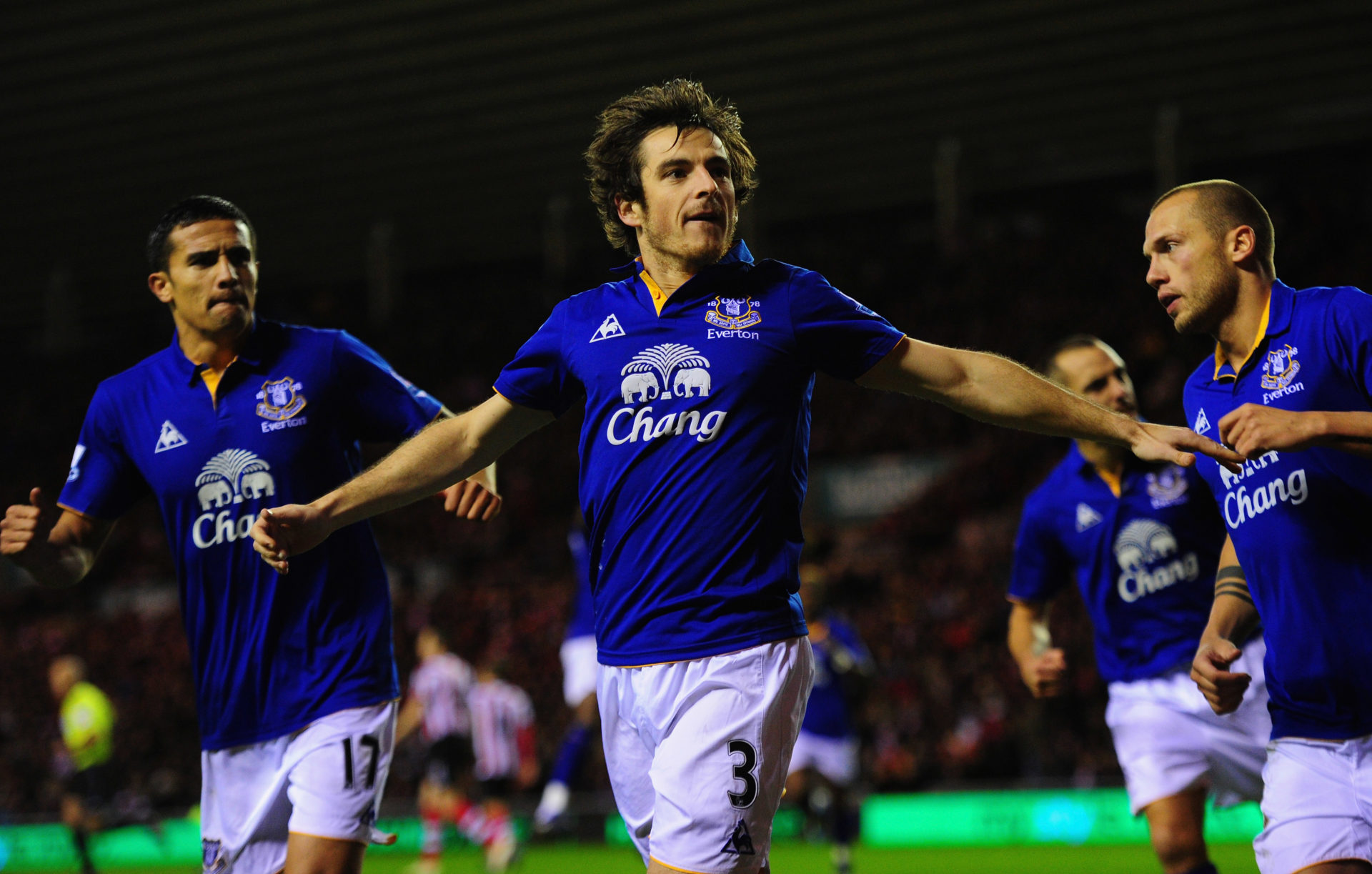 Le Coq Sportif revived Everton's blue socks with their 2011/12 home kit after eight years of exclusively using predominantly white socks. The French company also designed a superb home strip for use over that season with its use of yellow detailing for the bordering trim.
Everton's kit had faint yellow lines along the edges, along with a yellow line splitting the socks' upper section. The yellow touches further continued on the inside of the jersey's thick collar. Yet it proved to be Le Coq Sportif's last strip before Everton joined forces with Nike.
3) Everton away kit, 2012/13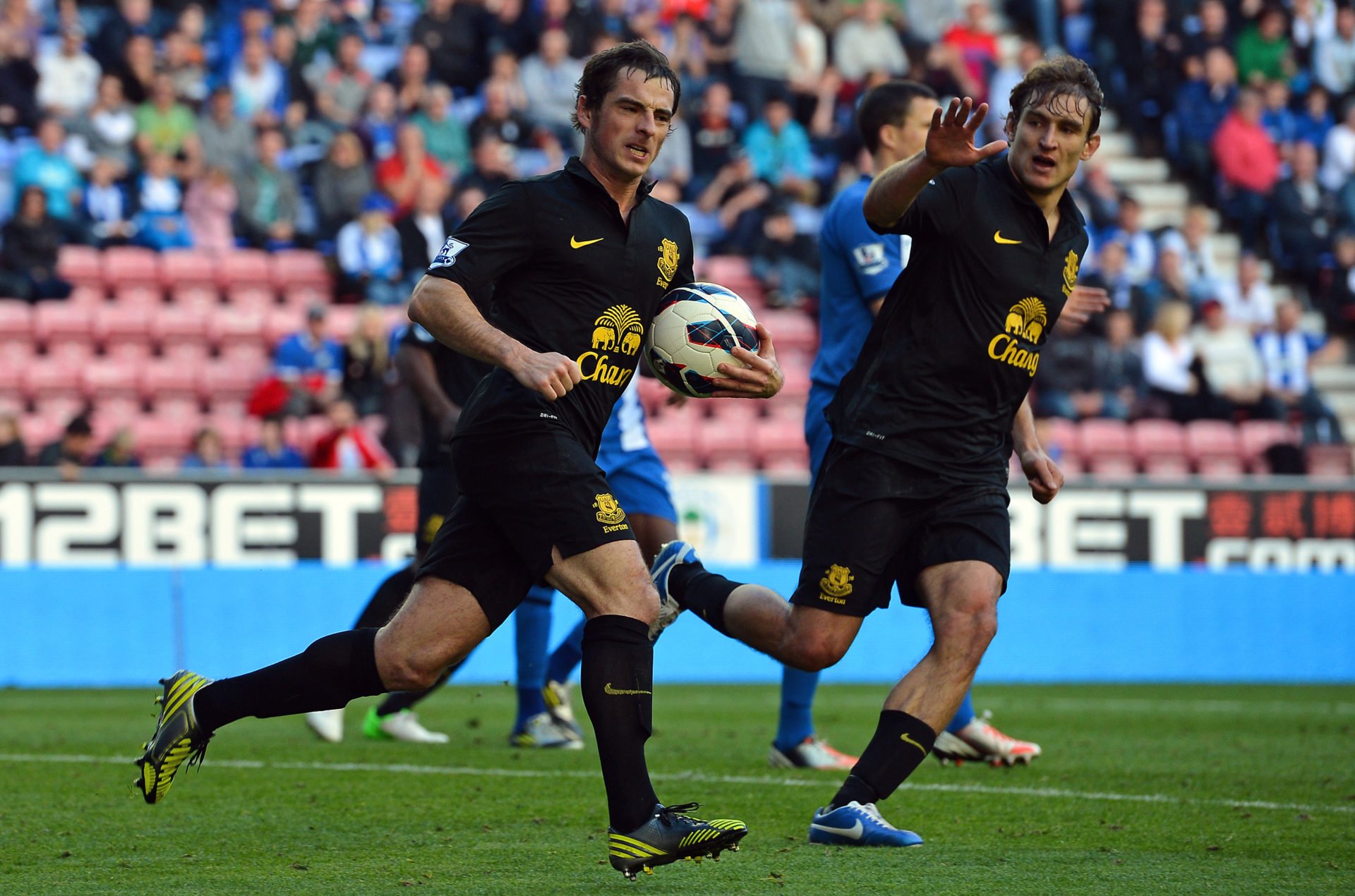 Nike only designed Everton's kits for two seasons after disappointing fans with its product for their home strips. But the American brand hit the right note with its away kit that the Toffees wore in 2012/13. It produced a sleek black kit with gold thread used for the logos.
Their shirt featured a thin raised collar but few other additional elements, allowing for its simplistic design to speak volumes. While the blend of gold thread on a black background made for a stunning strip. Nike also created each kit from up to 13 recycled plastic bottles.
2) Everton away kit, 1979-82
Umbro sought refinement over revolution when producing Everton's away kits from 1976 until 1982. It made very few changes to the design of the Toffees' change strip throughout the six-year period. It also retained the same design from 1976 to 1979 and 1979 to 1982.
But Umbro still produced a stunning strip for the latter half of that six-year stint. Everton's away strip from 1979 to 1982 also remains one of the club's top 10 kits of all time. Even if Umbro only changed the colour of the Merseysiders' superb home kit from blue to yellow.
1) Everton home kit, 2018/19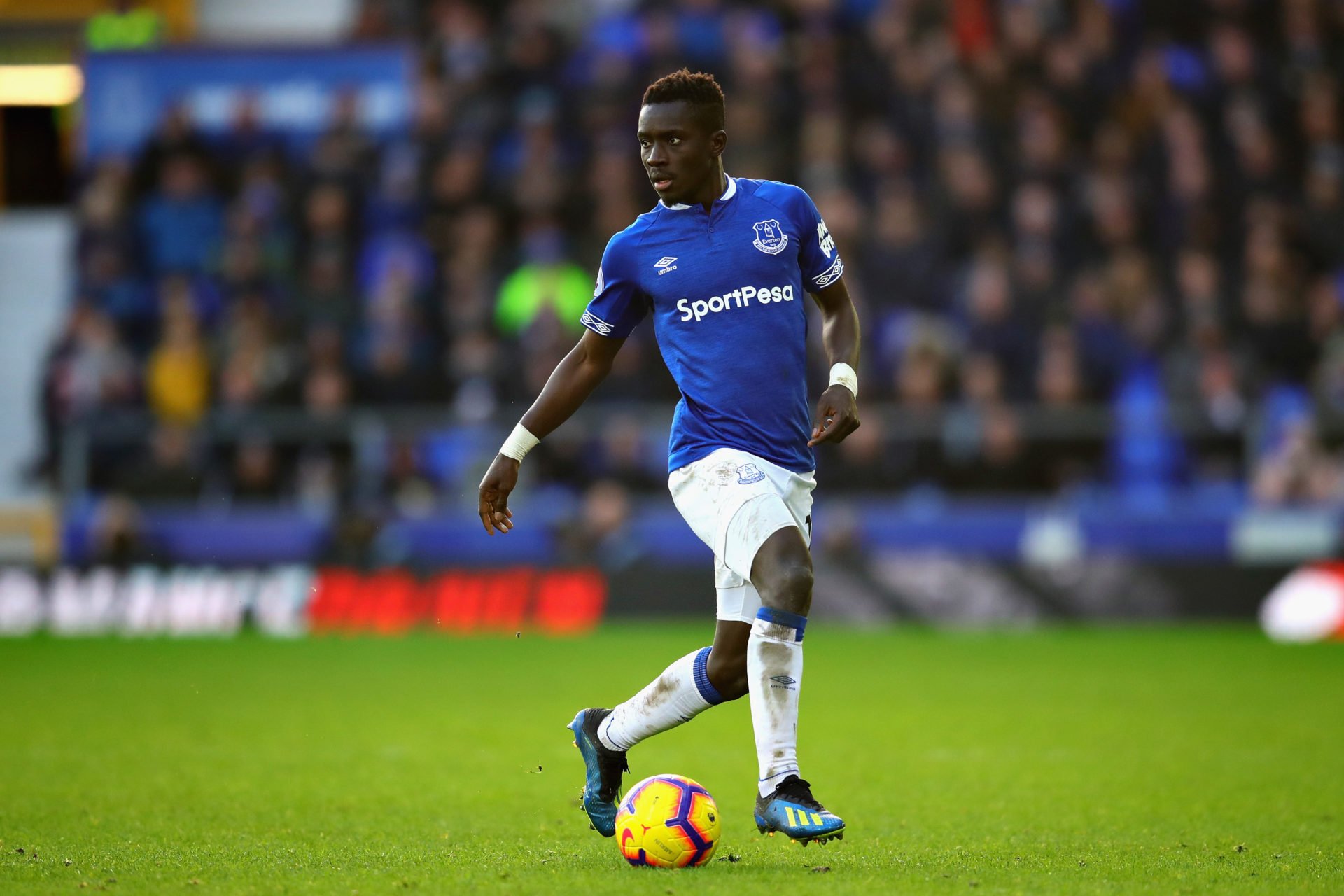 The number one strip in our top 10 Everton kits of all time was also a fan-inspired design produced by Umbro for the 2018/19 Premier League season. Umbro spent 15 months in discussions with Toffees supporters regarding the kit's colour, collar and design features.
It considered thousands of fans' opinions when producing the kit for Everton's campaign, Go On. The Toffees aimed the campaign at celebrating their history, their supporters and the city of Liverpool. Umbro thus created a traditional strip referencing their classic shirts.
Everton's home kit for the 2018/19 season would feature subtle nods to the club's history with Prince Rupert's Tower on the nape of the neck. Umbro also incorporated its diamond logo around the sleeve cuffs. It further had a classic collar with a two-button placket, too.
Related Topics
MORE EVERTON STORIES