Wenger's recipe for Success – What could have been?
If we look back 4 years to the 2009-10 Premier League season, Arsenal had a team full of up and coming stars. With the benefit of hindsight, we can see that the majority of these players have left and achieved huge success at their new clubs.
But consider a situation in which all these players had continued to play under Wenger at Arsenal – I truly believe the Frenchman had a team capable of European domination.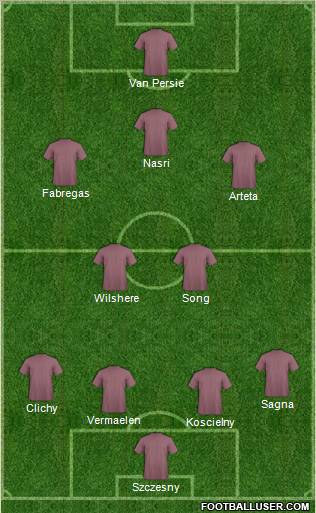 Here's a look at what could have been:
Wojciech Szczesny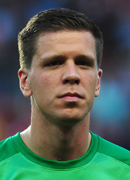 Szczesny has proved himself as a decent Premier League keeper since joining Arsenal in 2007. Unfortunately due to Arsenal's standard 3rd place league finish, he never gets the praise he truly deserves.
But when comparing him to the likes of Manuel Almunia and Jens Lehmann, there's no doubt his a much safer option between the sticks.
The Polish shot-stopper has played 73 games in all competitions for Arsenal since becoming their number one Goalkeeper in 2009, yet he's conceded just 29 goals.
Bacary Sagna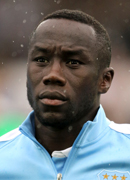 Sagna has dominated the right back position at Arsenal since his arrival in 2007. Since his £7.5 million transfer from Auxerre he has played 204 games for the club, contributing 4 goals.
Like Szczesny, he has proved himself as a consistent Premier League player, capable of competing with the best players in Europe.
Thomas Vermaelen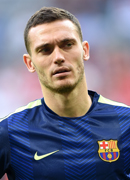 The Belgian was a relative unknown when he arrived from Ajax in the summer of 2009 as a replacement for Kolo Toure but he is now one of the first names on the team sheet.
Vermaelen's tackling ability and willingness to attack the ball make him a natural leader at the back and he is more than capable at the other end too, scoring eight goals in his debut campaign – including a couple of long-range specials against Wigan and Blackburn.
That said, the Belgian has made it clear that he would swap his goals for more clean sheets – the true currency of a title-winning defender.
Laurent Koscielny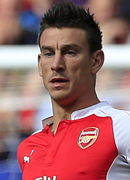 Koscielny signed for Arsenal in the summer of 2010.The centre back was voted Ligue 2 Player of the Year in 2009, moved to Lorient that summer and excelled in his only season in the French top flight before earning a transfer to Emirates Stadium.
The Frenchman is a quick-thinking centre back who reads the game exceptionally well and can turn defence into attack in an instant. He is comfortable in possession, loves to bring the ball out from the back and has settled in fast. He still has his whole career ahead of him and in the next few seasons he could prove to be a vital player for Arsenal.
Gael Clichy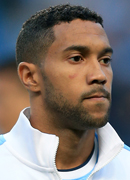 Clichy, 25, joined Arsenal from Cannes in August 2003, and during his time with the Gunners made 264 appearances in all competitions.
In his debut season with Arsenal, Gael became the youngest player at the time to win a Premier League medal in 2004, aged 18 years and 10 months. Soon after, Clichy established himself as a mainstay of Arsène Wenger's side and also a regular with the France national team.
Since moving to Mancini's side, he has added a Premier League title to his name, whilst establishing himself as arguably the best left back in the league.

Alex Song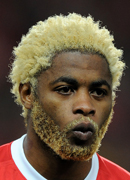 In the past three seasons Song has established himself as Arsenal's No 1 defensive midfielder.
Strong in the tackle, positionally aware and a good distributor of the ball, he is becoming a master at protecting his back four, breaking up opposition forays and initiating attacks.
Arsène Wenger's 4-2-3-1 formation allowed Alex to flourish this season in his preferred position behind the more attack-minded midfielders. His partnership with Jack Wilshere could become the backbone of an Arsenal side for years to come.

Jack Wilshere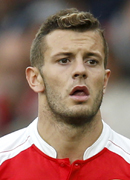 Skillful, strong, inventive and versatile, Wilshere is one of the most exciting young talents in the English game.
He joined Arsenal in 2001 as a nine-year-old and has enjoyed a meteoric rise ever since.
Wilshere gained experience on loan at Bolton in 2009/10 and took the Premier League by storm in the 2010-2011 season, making more appearances than any other Arsenal player as he cemented his place in midfield.
Jack is not only established at Arsenal – he's was quickly becoming an important part of the England side too, until an injury-filled season hampered his progress.
When he regains full fitness, both teams will be looking to the youngster for inspiration for many years to come.
Cesc Fabregas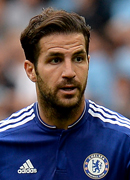 Fabregas left Arsenal for Barcelona in 2011, for £29 million. Since, he has achieved success in various competitions with his new club, including the Spanish Copa del Rey and the FIFA Club World Cup. Even before departing Arsenal, Fabregas had become a European Championship and World Cup Winner with Spain.
The 25-year-old playmaker had aleady proven his class in the Premier League and at a World Stage. Having been with Arsenal for the majority of his career, Fabregas had become a key part of the Arsene Wenger's squad, becoming the team's captain in 2008.
Had Fabregas remained at the Emirates, he may have convinced several other players to stay. Regardless, he alone is a star player in any European side, with the right set up around him, the Spaniard could have easily captained Arsenal to European glory.
Mikel Arteta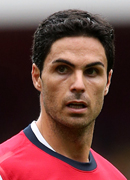 Arteta signed a four-year deal with the Club after completing his move from Everton on transfer deadline day in August 2011.
The Spanish midfielder has a wealth of Premier League experience, having been at Goodison Park since 2005. He proved his worth to Arsenal fans with some impressive performances throughout the season, until an injury put him out of action for the latter stages.
Arteta would have been a key figure in this Arsenal team, not only does he provide assists; he also has an admirable goal scoring record for a midfielder.
Samir Nasri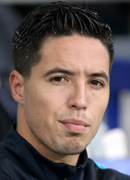 In his first season and a half in England, Nasri demonstrated that he was ideally suited to Arsenal's slick pass and move philosophy but despite some impressive displays, there was always the impression that a more complete player was waiting to get out.
Such suspicions were confirmed when Nasri really kicked into gear midway through the 2009-10 campaign, his penetrative runs and artistry ensuring that the loss of Fabregas through injury did not hit the Gunners as hard as many observers predicted.
He took his fine form into the following season scoring 15 times and emerging as Arsenal's main creative force alongside Fabregas.
Since leaving Wenger's side, he has added a Premier League trophy to the list of his career achievements. Despite only being a fringe player at City, Nasri has proved time and time again that he can perform at the highest level.  He would have been a key player in this squad.
Robin Van Persie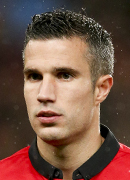 Robin van Persie has now moved into the prime of his career. The Dutchman enjoyed a successful World Cup in 2010 and went from strength to strength last season, scoring 30 goals in 37 Premier League matches.
Van Persie's quality has never been in doubt. He is an expert goal-taker and goal-maker with a penchant for free-kicks. That description fitted another of Arsenal's famous Dutchmen and it was no surprise when the 28-year-old took Dennis Bergkamp's No 10 shirt when it became available last season.
At times, injury has hampered his contribution but the Dutch striker is experienced, tenacious and passionate. He leads Arsenal's attack and they can always count on him for goals.
Conclusion
Had Wenger managed to keep some of the key players at Arsenal, they could have had a first team easily capable of mounting a serious challenge in Europe. This is an outstanding selection of players when you consider how they are performing for their current clubs.
These players, supported by Wenger's usual selection of youth players and a couple of the transfers made (Arteta, Chamberlain, Koscielny etc) would have provided the perfect formula for Champions League success. It's just a shame that some of them decided to leave.
Please comment with your thoughts and opinions.
Jack Wilshere's injury shows why Arsenal shouldn't renew his contract
The 26-year-old has been struck down by yet another injury.
Jack Wilshere will be pleased with the progress that he has made since returning to Arsenal from his loan spell at Bournemouth.
He was initially nothing more than a squad player that was out in the cold at international level too, but the midfielder worked hard to gain more game-time in North London.
Across all competitions, he has played more than 30 matches and his form earned him a call-up to the England squad.
It looked like he was getting a once-promising career back on track, but almost like clockwork, he has suffered an injury to set him back once again.
Gareth Southgate confirmed that he wouldn't be travelling to the Netherlands for Friday's match and the quotes were reported by Sky Sports.
"It is not a specific injury and over time they flare up and they need to settle down over a couple of days.
"We are hopeful it will settle down pretty quickly. It's an ongoing problem and it's not something new for him. He's very disappointed not to be involved in the game.
"He's trained well though but if you think about the journey he's had in the last two years and his big injuries then he's progressing really well."
Although it is encouraging that it isn't a serious injury, it is a reminder that Jack Wilshere remains a risk for both club and country.
It is difficult to build a team around a player that is susceptible to miss matches and the quote from Southgate is a worry as he refers to an ongoing problem.
Arsenal have had a difficult campaign and they will be planning a rebuild over the next 48 months as they transition away from the Arsene Wenger era.
They will have to make tough decisions on many players at the club and Wilshere's future will be brought into focus over the next few weeks as his contract expires at the end of the season.
There have been numerous reports regarding contract talks between the two parties and there is hesitancy on both sides.
This latest injury suffered by Wilshere and the comments from Southgate referring to an ongoing problem show why it is Arsenal who need to end this association.
Wilshere can't be relied on to stay fit and to feature prominently in a busy schedule. Arsenal will have ambitions of challenging at the very top of the game and will likely be involved in European competition every season. They need to have a squad of players that are reliable and the 26-year-old isn't that.
Aside from that, Wilshere represents what Arsenal have become over the last decade. He is a player that had a lot of potential, but he has failed to fulfil it and been very inconsistent at the highest level. Of course, he isn't to blame for the club's problems, but he is also unlikely to offer the solutions.
This season has been a nice farewell campaign for him. It would have been sad if his Gunners' career had ended after being shipped out on loan to Bournemouth.
He has returned to earn some of his credibility back, but the club need to move on and progress if they are to get back to the top of the English game.
A lot of contentious decisions will need to be made and the first should be the release of Jack Wilshere this summer.
Tottenham Hotspur fans react to Danny Welbeck dive
Tottenham Hotspur fans were not pleased with Danny Welbeck's dive v AC Milan.
Arsenal successfully knocked AC Milan out of the Europa League last night with a 3-1 win at the Emirates Stadium. The hero of the night was England forward Danny Welbeck. The striker scored two goals as Arsenal completed a deserved 5-1 aggregate victory over the Rossoneri.
But Milan had taken an early lead through Hakan Calhanoglu's bamboozling long-range strike. Arsenal, at that stage, were looking on the ropes. Welbeck though won and then dispatched a penalty to level the scoring. The word 'won' being the optimum word.
Welbeck dived for the penalty, there is no doubt about that. Ricardo Rodriguez barely breathed on the Arsenal man, who tumbled to the ground hopefully. When the penalty was given, he looked in disbelief.
For Tottenham Hotspur fans it was a moment they did not appreciate.
Spurs have seen Dele Alli victimised throughout the season, and some would say rightly so, for his diving. There is no doubt that the England midfielder has dived this season and not many Tottenham fans would suggest not.
But the anger here lies with what Tottenham fans believe is hypocrisy. There is also a certain level or irony given a thinly veiled dig by Arsene Wenger against Spurs' players this season.
After the highly controversial 2-2 draw at Anfield, where Harry Kane was accused of diving v Liverpool, Wenger had this to say, as reported by the BBC:
"I remember there were tremendous cases here when foreign players did it.
"But English players have learned very quickly and might be the masters now."
"Sometimes players play a little bit with the rules. How far can you go? That is down to the referees."
With Arsenal their next Premier League opponents, Arsene Wenger's barb was not hard to see.
When that statement came out Tottenham fans quickly pointed out occasions when Arsenal's English stars had been caught diving. Jack Wilshere and Theo Walcott were prominent examples. Now, in Welbeck, Tottenham have seen another.
Arsenal fans will be happy that their team have booked a place in the next round of the Europa League. On balance it was more than a fair result as over two legs Arsenal outplayed the Italian giants.
But the Welbeck moment certainly put an asterix on the game for Spurs fans.
Here is some of the best reaction from Twitter…
Özil against Watford was falling down when a gust of wind went past him. It was appalling. Welbeck yesterday was one of the worst dives

— Joe B ??????? (@JblincoTHFC) March 16, 2018
Only just seen the Welbeck dive, he must be embarrassed even appealing for that.

— Joshhh (@JJonesTHFC) March 16, 2018
Not like Welbeck then? Or any other England player? Same goes to the whole team. Not the individual! #THFC #England https://t.co/IJDL9xaQH0

— Harry Hotspur (@HarryHotspurWHL) March 15, 2018
If you had any doubt about how this country treats Dele Alli (one of its brightest prospects in years) look at the difference in how the media and in particular fans, are talking about the #Welbeck dive. ? #COYS #THFC

— Gary Ford (@Spursfordie) March 15, 2018
Imagine if this was @dele_official who did this and the media onslaught! Danny Welbeck you diving cheat! Hope the likes of @talkSPORT @GaryLineker @alanshearer to name a few subject Danny to the same treatment they have subjected Dele too this season! https://t.co/MXFMAkOGcN

— H (@LittleMissTHFC) March 15, 2018
Dele Welbeck #AFC #EuropaLeague

— Lucas (@MoughtTHFC) March 15, 2018
Welbeck is a cheat end of. Ruined a good game.

— THFC (@RaoullyT69) March 15, 2018
Look how everyone destroys Dele over diving. No one will comment on Welbeck's dive. Shocking! #THFC

— Harry Hotspur (@HarryHotspurWHL) March 15, 2018
If @dele_official had gone down like Welbeck did, @GaryLineker and the rest of the English media 'hags' would be berating him for weeks! #COYS #THFC

— Steve Williams (@spurssteve69) March 15, 2018
Welbeck dives. Dele will be in trouble in the morning. #THFC

— Stephen Vincent (@StevieV14) March 15, 2018
If Dele Alli did what Welbeck just did?

— Billy Adams (@ThfcAdams) March 15, 2018
Victory in Milan, but is this another false dawn for Arsenal and Arsene Wenger?
Arsenal were triumphant in Milan despite their recent miserable form.
Arsenal ended their losing run of four matches with an excellent performance away to AC Milan in the Europa League. This competition has the potential to save the Gunners season and the commitment from every player suggested that they want to go all the way.
They were coming up against a team full of confidence under Gennaro Gattuso. Milan hadn't lost a match since the end of December. The Serie A club hadn't conceded a goal in six and had won five of those inside ninety minutes.
These sides came into this fixture in remarkably different form, but football is played on grass and not on paper.
Despite Milan having more attempts, it was Arsenal who created the better chances. They had a couple of half-chances early on before the opening goal.
Henrikh Mkhitaryan has had a hot and cold start to life in a Gunners' shirt, but he was one of the best players on the pitch in Italy. His goal was emphatically taken as he drove the ball past Gianluigi Donnarumma.
It is important to capitalise when you are on top, especially away from home in European competitions and Arsenal did just that. As the first-half progressed, they continued to create the better opportunities. Both Danny Welbeck and Mkhitaryan had good chances to double the visitors' lead, but they were squandered.
In stoppage-time of half-time, Arsenal scored a second to give them a commanding lead in the tie. It was a great move from the team and Mesut Ozil found Aaron Ramsey who coolly rounded Donnarumma before putting the ball into the net.
The first-half performance from Arsenal was one of the best that supporters have seen this season. They were better all over the pitch and showed the work rate that they had lacked in previous weeks. Milan pushed in the second half, but they couldn't penetrate the Gunners' defence.
Laurent Koscielny and Shkodran Mustafi were both excellent. Arsene Wenger will be hoping that both are returning to their best after some uncharacteristic errors in previous matches. The centre-back pairing made eight ball recoveries and were always in the right position on Thursday.
Patrick Cutrone is a teenager with a big future, but the young striker had no luck out of the Arsenal defence and that will encourage the manager.
Another player to emerge with credit is Danny Welbeck. The ineligibility of Pierre-Emerick Aubameyang and the injury of Alexandre Lacazette means that the Englishman started the game up front for Arsenal. It was a huge opportunity for him after being pushed down the pecking order at the club and he took it with both hands.
The Englishman worked tirelessly and caused problems with his movement.
Although his final product wasn't great, he was a constant threat and led the defensive effort from the front. Welbeck will never be a leading Premier League striker, but he is effective in matches such as this one. He deserves more opportunities during the run-in.
It would be too soon to get carried away for Arsenal fans. There are still questions regarding Arsene Wenger and the work rate of the players, but this was an excellent performance that finally provides the club with positive momentum. They have had a miserable few weeks and the supporters can get excited about their team once again.
When the draw was made, a lot of supporters checked their expectations when it came to the Europa League. Milan were the overwhelming favourites, but Arsenal have taken a dominant position in the tie and should be able to finish the job in London.
If they can do that, they will move into the quarter-final stage. Although it will be difficult to win it, they will have as good a chance as any.
There have been many false dawns for Arsenal in recent years and this could be another one. That said, it takes enormous character to go away to a huge stadium like the San Siro after a poor run of form and win comfortably.
Considering the criticism that they have had for their lack of desire, few would have thought the Gunners to be capable of a result like this.
It is now up to Wenger to prove that he can get this level of effort and performance out of his players on a regular basis. The Frenchman remains in a difficult position with no margin for error. If he is going to keep his job, he needs to finish the season strongly and win the Europa League.
It won't be an easy challenge, but this performance and result will give him hope that he can upset the odds to claim his first European trophy.