While writing this preview of SC Freiburg's upcoming season, it's important to be frank with you, the reader. While here at CL Soccer we've been covering the Bundesliga's European push in high detail, Freiburg would have to have a ridiculously good season to even be in the mix for a second consecutive European season. Christian Streich's men were the Bundesliga's surprise package last season, picking up from a slow start to seize fifth place and come agonisingly close to a Champions League qualifier spot.
While Schalke beat die Breisgauer on the final day to snatch that dream away, confirmed European group stage football should be an enormous positive for the club tucked away in the South West corner of Germany. All that said, with the added stresses and fatigues of midweek football, and the loss of a few key players, anything more than mid table would perhaps warrant some kind of demi-god status for Christian Streich, and that if he's not yet quite deserving enough of it.
So far we've talked doom and gloom on Freiburg's prospects for the season, but things do look rosy for them down in Southern Baden-Württemberg. A handful of exciting signings – and Streich's tactical nous – should help maintain the team spirit that hauled the team through tough patches last season. Notable too should be that Freiburg have an excellent academy from which they can bring through players; a good example of this being the nonchalant way they threw 19 year old Sebastian Kerk into the all important game against Schalke for his debut last season. And, all of that said, Freiburg had a ridiculously good season last time out, and so a repeat wouldn't be the Bundesliga's biggest surprise.
The New Boys
Without a doubt, SC Freiburg's biggest summer deal thus far is the season-long loan of Swiss international forward Admir Mehmedi from Dynamo Kiev, with an option to buy at the end. A straight swap for last season's bargain transfer, Borussia Mönchengladbach-bound Max Kruse, Mehmedi is quite a big name by Freiburg's historical standards and should help the club well on the creation of chances front. Not particularly prolific at any of his previous clubs, Mehmedi will have been signed more with the view to feeding the likes of Mike Hanke and Sebastian Freis, than notching up a great number himself.
Mike Hanke himself is a new signing, having been nabbed by Freiburg on a free from Borussia Mönchengladbach. Hanke spent two years at Borussia-Park, where he quickly became a fan favourite, and although the forward is now reaching his thirties, he'll surely be hoping to have a similar impact on the Breisgau club. Not particularly prolific in bygone seasons, his goalscoring record is something he'll have to improve at a club with few out and out forwards – but Hanke will certainly add much to Freiburg's overall game, as is indeed the case with the aforementioned Mehmedi.
Arsenal's Francis Coquelin will turn out for Freiburg for the following season having completed a loan deal, and will perhaps lead to Arsenal fans keeping a closer eye on Streich's men. Coquelin is an excellent coup for Freiburg, and he should bolster a midfield who'll miss the likes of Makiadi, Caligiuri, Flum and Rosenthal – all bound for pastures new this season, at Werder Bremen, VfL Wolfsburg and the latter two at Frankfurt respectively.
Another loan signing is of Czech international Vaclav Pilar from VfL Wolfsburg. Pilar represents something of a coup for Freiburg, coming to the club with a good international reputation and high levels of talent. Pilar was expected to have a brilliant season with Wolfsburg last season following a starring role in the Czech Euro 2012 team, but the winger succumbed to injury and will still battle these towards the start of his loan spell at Freiburg. All of that said, if Pilar can get through his injuries, Freiburg will have a player who, on his day, can give any full back a nightmare – and, with the loss of the likes of Kruse, who played spells on the wing last time round, Pilar could be a very important player for Freiburg.
While there have indeed been more signings, all of whom are interesting, there are slightly too many to cover in great detail; a final signing that should be important to mention, and will be familiar with Bundesliga followers, however, is that of Felix Klaus from recently relegated Greuther Fürth. Klaus was a rare bright spark in a Fürth side who pretty much began the season with one foot in the 2. Bundesliga; it was his goal that gifted Fürth their first ever top tier victory against Mainz, for example. The midfielder is most certainly, at 20, destined for bigger things than relegations scraps, and so a move to Freiburg represents a good deal for both parties.
The Key Men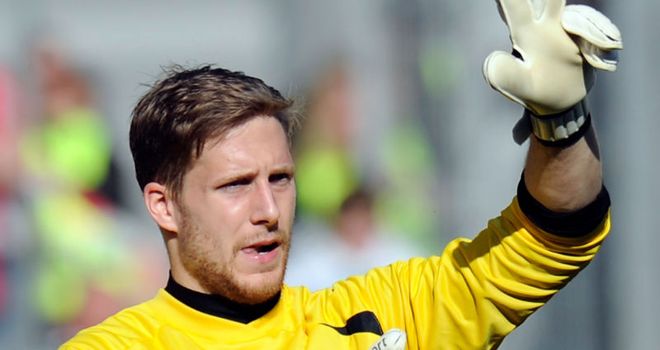 Goalkeeper Oliver Baumann will be very important to Freiburg this season. The 23 year old shot-stopper has been at Freiburg since he was 10, and has gone on to become a key part of Freiburg's recent success and a goalkeeper rated highly enough to be mentioned in international contention. Indeed, Baumann joined up with the German U21 Euro 2013 squad, and despite being knocked out in the group stages, was one of the only German players to come out with any real credit, replacing Leno in the third game and not making any massive mistakes like his predecessor. Baumann conceded only 40 goals in 34 games last season, and so alongside his defence – the likes of Matthias Ginter, Fallou Diagne and Oliver Sorg – Baumann was a solid part of Freiburg's success in 2012/2013.
Matthias Ginter is a highly rated youngster himself. At only 19, Ginter was one of the key players in Freiburg's defence last season and has since been linked with Arsenal and Borussia Dortmund. Fortunately for Freiburg, and his own personal development, Ginter has stayed loyal to his home town club. Over the coming years, his name will surely be an important one for Germany; he's one of the best up and coming centre backs, certainly, and it's surely a question of "when" and not "if" he'll pull on the Nationalelf kit.
Jonathan Schmid is another player worth watching if you ever catch a Freiburg game. The man with one of football's worst haircuts had a sparkling 2012/2013, and with the aforementioned awful barnet is instantly recognisable, too. His 6 goals and 6 assists from midfield were a massive part of Freiburg's success last season, and following his form he's already been linked with a callup to both the French and Austrian national teams. At 23 – all these key players are startlingly young – Schmid should have a long career in front of him in which to be successful.
Prediction
Predicting the position of clubs contending for mid table in the Bundesliga is a little bit like telling the age of wine by sucking the cork; it's difficult. There's very little doubt that Freiburg can deal with European football and the Bundesliga in a strong manner, but what's harder to guess is how quickly their new signings – of which there are many – will fit into the team. Around 11th or 12th position is our guess at CL Soccer, but as Bundesliga fans will know, there is very little difference in points between that and Europe, or that and the relegation battle. Either way, it should be an enthralling season for die Breisgauer.
Related Topics