The 2013/14 Premier League season was an unprecedented success for the boys from Anfield as their efforts drove them to fight for the title until the very end, only to fall at the final hurdle and finish in second place. Liverpool have not yet won a Premier League trophy and this was the closest they have come in a long time. The wave of support behind them grew from week to week and as the climax of the season drew ever nearer, it seemed that they would be carried to the title itself. As it turned out, it was not to be for one more season at least, but let us look back at a tremendously successful campaign nonetheless.
Star striker Luis Suarez was missing for the first 5 league matches of the season for a ban carried over from the campaign before, and so many of the concerns initially revolved around scoring enough goals to win matches in this period. These fears were not realised however as Daniel Sturridge stepped up to the plate, scoring the winner for 3 consecutive games. In these early stages, Liverpool were also a great deal more solid in the defensive department, with victories often being paired with a clean sheet. This trend dropped off quite severely as the season went on and while the increased number of bodies committed forward resulted in scoring a hatful of goals, they became like a leaky bucket in defence. 1-0 results suddenly transformed into 3-2's; brilliant excitement for the neutral viewer but the eventual downfall of their title challenge.
After topping the table in the early parts of the season, Liverpool dropped off the pace during the festive period with many observers believing this would be yet another year that The Reds fell out of the top 4. However, as all others around them began to stumble and trip up, Liverpool marched on in unstoppable fashion. They gained points on their rivals at an alarming rate, drawing ever closer to leaders Manchester City. Some of the most memorable moments of last season for Liverpool fans came in these months as they put several top teams to the sword in relatively quick succession. 4-0 against local rivals Everton, an unbelievable 5-1 versus Arsenal and 5-0 against fellow North Londoners Spurs, and perhaps most pleasingly defeating arch enemies Manchester United 3-0 on their own patch gave Liverpool true belief that they could lift the trophy.
As the season entered its final throes, the realisation began to sink in as everyone looked at Liverpool as serious contenders for the first time. What had manifested itself as hope and possibility was fast transforming into expectation in the eyes of some and this additional pressure took its toll in the end. Consecutive 3-2 victories over Manchester City and Norwich City put the title in Liverpool's hands, but a morale shattering defeat at home to Chelsea was a monsoon on their parade. The Merseysiders had won a lot of friends over the year with their fast-flowing play and the excitement that ensued from somewhat forgetting their defensive responsibility from time to time. Sustaining a similar challenge this season will almost certainly be a tougher proposition with the additional strains of Champions League football to contend with, in addition to losing Luis Suarez to Barcelona. However, Brendan Rodgers has not been afraid to spend money to add to his squad in the necessary areas, leaving the hope that last season was not just a flash in the pan.
Biggest Transfers
Luis Suarez: An absolutely huge departure from Anfield came this summer, and almost certainly the most significant since Fernando Torres left for Chelsea in the January of 2011. Incidentally, this was the same month that the now Barcelona-bound Luis Suarez arrived at Liverpool, and it is his exit which has dominated Brendan Rodgers' transfer dealings over the last months. While I believe the club were completely correct in selling him, the hole that he leaves behind in the side is one that takes some filling in. His goals are the most obvious absentees but what should not be ignored is the number of assists and amount of space that he creates for his teammates. The reported £75 million received by Liverpool will go a long way to strengthening the squad and it is Rodgers' transfer choices that will determine whether the deal has been a positive one for The Reds.
Emre Can: In what may well turn out to be a bargain deal, Liverpool have brought in the German-Turkish youngster from Bayer Leverkusen for only £10 million. The powerful midfielder has shown a great deal of promise already in his brief career to date, and his characteristics are exactly what Liverpool need in the engine room. Comfortable taking possession of the ball with both feet, equally adept in the defensive area of the field as he is charging forward, Emre Can could well turn out to be the long term successor to Steven Gerrard in the Liverpool midfield. I cannot wait to see how quickly he takes to the Premier League and the energetic combination with Jordan Henderson could be crucial to Liverpool's success.
Dejan Lovren: While Liverpool were banging in goals for fun last season, they were certainly not watertight at the back. The defensive unit attracted a great deal of criticism as their failures were seen as the primary cause for Liverpool's eventual title defeat. However, I do see it as a rather more complex issue than that, for the team as a whole would often commit so many men forward that the defenders were left isolated. Johnson's inability to complete his defensive responsibility did not help matters and if this trend is to continue, then the presence of leaders in the back line will be vital. Skrtel is certainly that, and new signing from Southampton Dejan Lovren can easily grow into a strong personality at centre half. He brings added steel to the team, a no-nonsense attitude that should result in a minimal number of sloppy goals conceded, and his prowess at defending corners is another important asset. I am excited to see which partnership flourishes between Lovren, Skrtel and Sakho in the coming months.
Key Men
Steven Gerrard: Despite his age, Steven Gerrard remains a vital cog in the Liverpool machine although in a different way to during his younger years. Now, rather than the enigmatic and all-action displays of years gone by, he has dropped into a deeper position in front of the back four to dictate the tempo of the game. Here his leadership qualities, game intelligence, and passing prowess come to the fore. Despite the significant summer investment, Gerrard remains the best at this job in the Liverpool squad by some distance and when he is rested, it is likely that Rodgers will have to adapt his tactics or philosophy somewhat. The recently retired England international will simply not be able to play week in week out this season, so the levels that he can achieve when on the pitch will be crucial to Liverpool's overall success.
Raheem Sterling: Not 20 years old until December, Raheem Sterling may well be one of the youngest members of the side but that does not degrade his importance to it. He was a huge part of the lethal attacking trio last campaign and now that Suarez has left, Sterling's role has become even more paramount to the success of the club. Liverpool's style of play suits the youngster's attributes down to the ground, and he often finds himself isolated with a defender where his supreme pace and dribbling ability can create chances galore. Sterling can play in a variety of positions and systems, and most importantly capable of performing to a high level in all of them. With a great deal of change taking place in the squad's attackers this summer, the consistency of Raheem Sterling should help to bed the new arrivals in and be a reliable link between the midfield and forward line.
Daniel Sturridge: The former Chelsea and Manchester City forward has been hugely impressive ever since his move to Liverpool 18 months ago and will possibly need to find yet another level this season. Settling in instantaneously, he has never found goals hard to come by in Liverpool red and in particular when paired with Luis Suarez last season he looked unstoppable at times. Some of his greatest traits are rapid feet and change of pace, an eye for the goal and the confidence to pull out the spectacular. Now that the infamous Uruguayan has left Anfield, even greater responsibility now falls on the shoulders of England's number 9. Premier League defenders will have become wiser to his goal scoring tactics, requiring him to be constantly on the lookout for self-improvement. Furthermore, he has never really been tested on the European stage and with Liverpool finding themselves in the Champions League for the coming campaign, he will be expected to hit the ground running here too. Currently as The Reds' top striker by some considerable distance, there will be many looking to him for the goals that can help Liverpool progress into the knockout rounds and challenge towards the tail end of the season domestically. Assuming he can stay injury-free, Daniel Sturridge has the tools to enjoy another terrific season, hopefully passing the 30 goal mark in all competitions for the first time in his career.
Possible Starting Line-up
Simon Mignolet did not have the greatest first season in a Liverpool shirt but a starting place for the Belgian is not in any real doubt. This has been assisted by the departure of Pepe Reina to Bayern Munich who was the only other goalkeeper in the squad who possessed the attributes to challenge him.
I hope that Javier Manquillo starts in place of Johnson at right back, who has become more of a liability than ever in my eyes. The young Spaniard is hugely promising also, and frequently rumoured as being the natural successor to Juanfran in the national side. There is a tough choice to make at centre back, both due to the quantity and relatively equal quality of the options available. Martin Skrtel was probably Liverpool's best defender last year, but the £18 million and £20 million spent on Sakho and Lovren respectively in recent times leads me to think that they may receive the most game time. My preferred partnership at the moment would be Skrtel and Lovren, but I hope that Sakho's first experiences of the Premier League last season along with a solid showing at the World Cup will lead to a more stable year at Liverpool. We need to see how successfully Enrique has recovered from long injury lay-off before making a final decision at left back. He definitely needs to improve on the ball to remain in Rodgers' long term plans, so I think that Alberto Moreno will end up in the first team sooner rather than later.
I, along with almost every Liverpool fan, would still have Gerrard as the side's holding midfielder in the strongest line-up, but as everyone is acutely aware, he won't be able to feature every week. Lucas has been good in pre-season but he doesn't give enough for me to break into the team. Joe Allen has been coming on very strongly for the latter portion of last season and will certainly play a lot of minutes in the months ahead, but I think the last 2 midfield slots are a straight fight between Jordan Henderson, Emre Can, and Philippe Coutinho. Henderson's energy will always give him the edge from week to week, and then the calibre and set-up of the opposition should determine who slots into the final berth.
Further up-field, Sterling continues to grow into an even more complete player as time goes on, almost guaranteeing a spot on either flank. The battle between Markovic and Lallana for the other wing will be interesting, and a refreshing one when you consider the distinct lack of options here in recent years. Markovic may take time to adjust to Premier League football, possibly giving the edge to Lallana once he has recovered from a knee injury. In addition, the presence of Jordan Ibe and Suso waiting in the wings should not be forgotten, especially the 18 year old Englishman who has shone throughout pre-season.
In the striking department, regardless of any potential additions still to arrive, Daniel Sturridge will be Liverpool's man to lead the line. Lambert is a useful option but Sturridge is a much more complete player and one that suits the club's fast-flowing attacking approach to a much greater degree than the former Southampton man.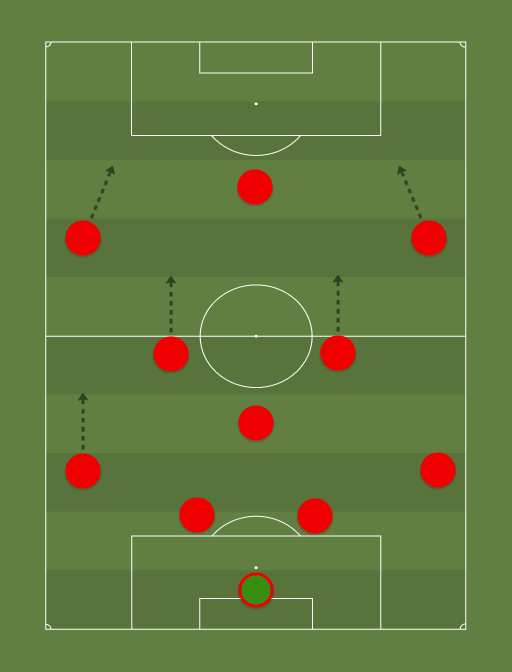 Predicted League Finish
With all of their title and top 4 rivals strengthening significantly over the summer, it will be an even greater test for Brendan Rodgers and his troops to repeat the feat of last season. Whilst retaining a strong squad from their last campaigns, both Chelsea and Manchester City have added in areas that they were short in. In my opinion this makes them the favourites for the title itself, leaving 2 from 3 out of Liverpool, Manchester United and Arsenal to take up the remaining Champions League qualification spots. The lack of additional European strain on United's players, along with Van Gaal's new injection of intensity bodes well for their league chances and in my opinion will be the tougher of the two for Liverpool to overcome. Arsenal have added well in some areas, but long-standing issues do remain which I believe will result in them dropping out of the top 4 this time around. As such, I predict a third placed finish for Liverpool, just pipping Man United in the final throes of the campaign to secure automatic qualification for the Champions League for a second year in succession.
Related Topics
MORE LIVERPOOL STORIES