Germany bring out the Wurst of Brazil – Germany 7-1 Brazil
A magnificent German attacking performance on Tuesday evening left the host nation reeling, as Germany summoned seven of the best to hammer home against a weakened Brazil side – including a milestone goal for Miroslav Klose, his 16th goal in his fourth World Cup competition, a new World Cup record. Germany, it's fair to say, have taken their time to grow into the competition – this being their first truly outstanding performance over 90 minutes – but even with this evidence, the most optimistic Germany fan would not have predicted the mauling that took place in front of their eyes. The Germans will take up their place in the final, while Brazil will stick around for the third place play-off, but definitely can't be looking forward to it all that much.
Story of the Game
The game started relatively openly, with both teams trying to catch the other on the break. Brazil repeatedly tried diagonal balls from defence into their wide men Hulk and Bernard, but this wasn't stretching the German defence any real amount, Lahm and Höwedes very easily dealing with the questions asked by their Brazilian counterparts. Germany, however, had the first real menacing attacking of the game – Müller squaring a ball to Mesut Özil, who cut back towards his ex-club teammate Sami Khedira, who rifled a drive right into the back of Bayern's Toni Kroos; a wake-up call for Brazil, perhaps?
Well, not really. It was certainly a glimpse of things to come – Germany attacking effectively and dangerously – but Brazil certainly didn't wake up. Minutes later, they gave away a cheap corner and failed to clear, leaving Thomas Müller a ridiculously easily chance to put his country in front; and he duly obliged, side-footing a volley home with aplomb. Marcelo had a penalty shout turned down not long after – it was a very obvious dive, however – before things got a lot, lot worse for Brazil. An emphatic German foray down the left found Toni Kroos, who squared for Miroslav Klose. Klose got a poor shot away, which was saved by Julio Cesar, but he made no mistake from the rebound, hammering home for a 2-0 lead – and his personal goalscoring record. Germany were in command, and just about a quarter of the game had been played.
It was Kroos' turn a couple of minutes later. Germany won the ball back from the Brazilians pretty much from the restart, and bolted forward, with the midfielder strongly linked with a move to Real Madrid over the next few weeks providing the finish to a free-flowing attacking combination. A moment later, it was four; Kroos playing a neat one-two with Khedira, before tucking in neatly past Cesar. It was 4-0 in the World Cup semi-final, and it wasn't even at the half hour mark yet.
In fact, it was 5-0 before the half hour mark too – a stunning 10 minutes or so for Germany propelling them from a commanding scoreline to a guaranteed final place. A one-two between Khedira and Özil gave Khedira with an easy finish, like Kroos' seconds earlier, and Brazil were reeling. What had started with so much expectation had done more than crumble in the first half. Supporters were in tears as an eerie silence came over Belo Horizonte, stopped only by that awful rendition of Seven Nation Army that the German supporters insist upon inflicting on everyone when they score.
Brazil managed to limp into the break with no further damage incurred, but they were booed by their home fans, who were still shell shocked by the 4-goal salvo they'd seen minutes earlier. The second half started slightly better – Brazil probing for a consolation through Oscar, who had a ball well squared by Ramires, but was thwarted by Neuer in his attempt on goal, before Paulinho fired a shot straight at the Bayern Munich goalkeeper. Even at 5-0 up, Neuer was showing why he's been one of the goalkeepers of the tournament – hauling his side through the preliminary knockout rounds and maintaining an embarrassing scoreline at the host's expense in the semi final.
Germany nearly pulled further ahead through Thomas Müller, who forced Julio Cesar into his first real good save of the night on the hour mark, as Andre Schürrle of Chelsea also entered the fold. Maicon had a fleeting chance denied by his inability to stay on his feet, before Germany's attacks began to tear Brazil apart at the back again. Tired and exposed by their attempts at a consolation, the pressure told as Philipp Lahm threaded a neat ball from the right onto the foot of Andre Schürrle for a well-worked tap-in. Thomas Müller was also queuing up behind Schürrle, perhaps more in hope than expectation – nevertheless, Germany had hit Brazil for six, and it was about to get marginally worse, still.
Schürrle ran on to a Müller through ball in the area, and rifled a half-volley under the crossbar and past Julio Cesar from the tightest of angles. Humiliatingly, this wasn't just the seventh goal of the night that Brazil had conceded – but their fans rose in a standing ovation of the German team and Schürrle, which is never good. As Germany pushed for an eighth – which would have equalled their record World Cup win, having beaten Saudi Arabia by that margin in 2002, the Brazilian fans started to "ole" every German pass ironically. Maybe, for once, the cliché that it was "like watching Brazil" held some weight.
There was time, finally, for a consolation – Özil missing a gilt-edge chance before Brazil charged up the other end and, through Oscar, restored some level of respect to the scoreline with a decent finish which infuriated Manuel Neuer. But, with around 2 minutes left, Germany were safe in the knowledge that they'd go on to the Maracana – meanwhile, Brazil probably won't receive the support that Germany did in their home World Cup in 2006, who after their loss in the semi-final to Italy even sang that "Stuttgart (the host city of the Third Place Play-off that year) is more beautiful than Berlin anyway". But, then again, they did suffer the heaviest semi-final defeat ever, so fair enough.
Player Ratings (of 10)
Germany
Manuel Neuer – 8: Just excellent – didn't make a mistake all game long. Goal not really his fault.
Philipp Lahm – 8: Has been excellent since going back to his actual position. Had Hulk in his pocket.
Jerome Boateng – 7: Was alright.
Mats Hummels – 7: Posed problems in the opposite box but wasn't really tested before going off at half time.
Benedikt Höwedes – 7: Slowly getting used to the left back position, but this was probably his easiest game of the tournament. Bernard didn't even try to expose him.
Bastian Schweinsteiger – 8: Was imperious throughout, but did miss a good chance late on. Not that it was telling.
Sami Khedira – 9: Khedira's best performance so far this tournament – went off with 15 minutes left, which should hopefully ease fitness worries ahead of Sunday.
Thomas Müller – 8: A better showing by Müller than in the past couple of games. Dangerous throughout and got the ball rolling.
Toni Kroos – 9: Two goals in a couple of minutes is a decent return!
Mesut Özil – 8: One of Germany's best attacking players. Despite being much-maligned, created a lot of chances. Just unlucky to miss the most noticeable one.
Miroslav Klose – 7: A little bit wasteful, but he did help the team's shape massively.
Substitutions
Per Mertesacker – 7: Carried on where Hummels left off.
Andre Schürrle – 8: A fine brace capped off an excellent cameo.
Julian Draxler – 6: Didn't do anything.
Brazil
Julio Cesar – 2: Conceded seven goals. Awful, really.
Maicon – 1: Was a part of a defence which conceded seven goals. Also threw away a great chance. Awful, really.
David Luiz – 1: Looked out of sorts. Threw away any semblance of organisation we'd seen in his partnership with Thiago Silva. Awful, really.
Dante – 0: Is there any point discussing this guy's performance? No. Let's not.
Marcelo – 1: See Maicon.
Luiz Gustavo – 2: Can you see the general theme so far?
Fernandinho – 1: It's quite obvious. They were all awful.
Bernard – 2: Didn't do anything, which is a shame.
Oscar – 4: Well, at least he got the goal.
Hulk – 0: See Dante.
Fred – 0: See Dante and Hulk.
Substitutions
Ramires – 7: Was actually very good.
Paulinho – 5: Wasn't great.
Willian – 6: Meh.
Man of the Match
Toni Kroos. The Bayern midfielder might be on his way out of the club, but he made a performance which shows why the likes of Real Madrid are interested in his signature; two well taken goals, plus an all-round effective passing performance will have confirmed him as a starter for the final, too.
David Ospina: The man behind the changing tide at Arsenal?
Brazil 2014 was a big changing point for this 26 year-old gentleman, given that how well Columbia did. Normally, when you perform at the highest platform, you make a good case for a club or/and agent to bunk up your worth. This said, David made a great case for himself at a point where he decided that he was to move on from his former club, Nice to pastures new. Not for the lack of trying, I'd bet a pound to a penny that Nice did everything in their power to keep the energetic Keeper from leaving. After seeing Fabianski leave the Emirates for plucky underdogs Swansea, there was room on the bench/understudy to Szczesny and what better than James Rodriguez's brother-in-law (just throwing that in, I'm sure his CV is glossier than that).
I don't think I'm the only one which has seen the void in net since the departure of Seaman. Jens did alright, but I only got the impression that he was filling the gap for a younger and more headstrong keeper. Almunia felt similar, although he has a common trend in coming as back-up and replacing a mistake ridden mess in the first team. Mannone was lost in the great search for a main keeper which saw him Szczesny and Fabianski all jumping for that number one slot like prized salmon. That said, Mannone moved on to the Nightswatch (Sunderland) and so did Fabianski to Wales (Poor bastards) last summer and Arsene signed Ospina.
Southampton are pivotal to Ospina's career at Arsenal. Not only did he make his debut in the 2-1 loss in the Capital One Cup but later the game in which they lost 2-0 where Szczesny conceded and appeared to give not much cop except only about his thirst when he chugged from his bottle soon just after Southampton scored. This was the infamous "Showersmokergate" where the Polish international was apparently caught with a lung full of the naughty stuff which, apparently, isn't that uncommon at the Emirates.
After being dropped like an aftershave bottle on the foot of Canizares, Arsenal have gone on an emphatic turn in which has led to Ospina having one of the greatest Win Ratio's in the League. Sure if you look at it you see names like del Horno and Stepanov which I'm sure are now excellent pundit's/twitter bait for "Forgotten Players of Yesterday", but Ospina recent ratio of 91.7% pretty much encapsulates how well they're doing with him. 11 victories out of the last 12 has pushed pundits and supporters alike to say "they could, you know, not do that stupid fourth place race with Spurs and make Chelsea's life difficult". Given Man City's fall of grace and fan's raising questions on why can't a hipster's choice make it in the Premier League? (Just wait for Klopp), Arsenal look ever more likely to shout "heeeey batter batter swing" every time Chelsea play to keep them looking over their shoulders.
I look at Ospina and instantly feel he's more of a keeper than Szczesny. All that bravado and cocksure attitude from the Polish international only made me think he wasn't all that confident in his own abilities and given an Arsenal defence can breakdown at any time like a late 90's Fiat Punto, then it's possibly not the best fit. Ospina doesn't have that problem with his power-steering nor his ability.  He's an excellent shot stopper given the size of him and can organise and scream at his defence with the best of them. Given that he stands at just 1.80 meters tall (5ft 10 to you and me) he shadows in the comparative light of De Gea (6ft 2) and Courtois (6ft 7), but still, he's keeping up with the Paul Joneses.
Ospina can't take all the limelight for all the good that's become of recent months (we'll just forget about Monaco), as they've come across Coquelin and Bellerin which have added to well needed Polyfilla to that leaky-if-not combustible tap of a defence. Coquelin is what Arsenal have been searching for, what every fan who watches and says "why'd we never replace Vieira?" and lastly, what every bloke buys a man to cover the position for on Football Manager. A rough, tough tackling midfielder general who gets the ball from deep that isn't covered in a cast like Wilshere nor kicks the living shit out of players like Flamini. Bellerin has been equally impressive with eye-catching performance like the recent pearler he scored against Liverpool.
Good year for Arsenal if they maintain it and given the players who've come out to play and play extremely well together, they could do the unmentionable if Chelsea slip up in one or two matches, but now I've mentioned or at least alluded to, so you know Arsenal fan's, sorry about that forth spot.
Bursting Onto The Scene – World Cup Breakthrough XI
As well as showcasing some of the best footballers of this generation, the World Cup in Brazil also served as a stage for some of more unknown players to shine. With the likes of Costa Rica, Mexico, and Algeria doing better than expected in the tournament, as well as many players shining in Brazil, we have selected a World Cup 'Breakthrough' XI.
Goalkeeper: Guillermo Ochoa
Guillermo 'Memo' Ochoa has always been recognised in his home nation as a world class shot stopper, but received little recognition outside of home. When his spell at boyhood club América ended, rumours of a move to the likes of Manchester United, Fulham, Sevilla and Roma soon followed. Ochoa eventually signed for Ajaccio in France where he spent three seasons. The Mexican entered the World Cup knowing that he would be a Free Agent by the time his campaign finished, and put in a string of supreme performances in a tournament where Mexico exceeded expectations. After showing such stunning World Cup form, Ochoa will not be short of options this summer, especially now that a free transfer is on the cards.
Right Back: DeAndre Yedlin
Despite not starting a game in the World Cup, 21 Year Old Right Back DeAndre Yedlin makes the team after some electric performances off the bench. Eyebrows were raised initially upon Yedlin's inclusion in the 23 man squad, but he impressed immensely in the three substitute appearances he made in Brazil. Despite defeat, Yedlin's incredible stamina coupled with his blistering pace caused Belgium a world of problems in the Round of 16 match. Since that game, and in turn USA's tournament exit, rumours of interest from the likes of Roma, Liverpool and Bayern Munich have flooded in. While it may be a risk moving to Europe with such little experience under his belt, many teams would happily pay the £3m fee that Seattle Sounders are rumoured to be waiting for.
Centre Back: Daley Blind
As far as young Dutch talent goes, Daley Blind may be seen as a late bloomer despite still only being 24 years of age. Blind caught the eye in Brazil from the Left Back and Centre Back position, with accomplished performances throughout the tournament. While he has shown defensive quality in Van Gaal's 5-3-2 formation, with a goal and 3 assists to his name, including the stunning pass to Robin Van Persie that set up the striker's header against Spain, Blind has shown plenty of ability going forward too. For Ajax this season, Blind played in a multitude of positions, namely Centre Midfield, Left Back and Centre Back, and had a pass success rate of 87% in all competitions last season.
Centre Back: Giancarlo Gonzalez
26 year old Centre Back Giancarlo Gonzalez was a rock in the impressive Costa Rica defence at the World Cup. The expected whipping boys of the group surprised everyone by winning the tough Group D ahead of Uruguay, Italy and England. Gonzalez was a crucial part of the hard working Defensive system that conceded only 2 goals from open play in the tournament where they reached the Quarter Final stage. QPR Defender and World Cup pundit Rio Ferdinand was very impressed with Gonzalez, and said he would be shocked if Gonzalez wasn't signed by a European team. After dealing with the likes of Wayne Rooney, Edinson Cavani, Arjen Robben and Mario Balotelli in the tournament, who is to say Gonzalez isn't good enough for a top Champions League side?
Left Back: Miguel Layun
The #TodoesculpadeLayun (Everything is Layun's fault) hashtag on social networks took off in May 2011 and was used to cruelly focus the attention of Club America's struggles at that time onto Layun. The Defender's career was on the slide back then, enduring poor form with America after already struggling in a two-year stint with Atalanta in Italy. The turning point in Layun's career however, came when current Mexico coach Miguel Herrera took over at Club America ahead of the 2012 Clausura. Layun developed alongside Herrera at club level and then internationally too with Herrera taking over in October 2013. Layun became one of Mexico's biggest weapons in Brazil as the left wing-back in the 5-3-2 system. Layun has a European passport which opens the door to a move to a European team – something which could come in handy after the impressive tournament he endured.
Centre Midfield: Valon Behrami
While most of us know Valon Behrami from his time in the Premier League with West Ham, and now with Rafa Benitez at Napoli, few knew he was capable of such accomplished Centre Midfield performances as he showed with Switzerland out in Brazil. Playing in a deep role alongside Captain Gokan Inler, Behrami got about the pitch like few others can, showing his great stamina and tactical nous. Behrami finished the World Cup with an impressive 84% pass accuracy from the 4 games he played, and made an average of almost 4 tackles per game. Behrami will be hoping to guide Napoli through the Champions League playoff round next month.
Centre Midfield: Hector Herrera
Hector Herrera, I believe, is one of the most underrated Midfielders playing in Europe. Herrera had a huge part to play in Mexico's impressive showing in the tournament, with his well rounded game causing Brazil, for one, many problems in the group stage.  Herrera averaged 3 key passes per game in the World Cup, with his 82% pass success providing an assist too. Manchester United were rumoured to be interested in the Midfielder when he left Pachuca, and they could do a lot worse than go in for the Mexican this summer. Herrera's Porto is another team who will need to win a playoff game to make the Champions League for next season – should be still be a Porto player by then that is.
Attacking Midfield: James Rodriguez
By no means was James Rodriguez unknown before the World Cup, but the extent of his performances has since propelled him to become one of the most expensive footballers of all time. 6 Goals in 5 World Cup Games earned Rodriguez the highly prestigious Golden Boot award, and since then a £63million 6 Year Deal with Real Madrid too. As well as his 6 goals (including the goal of the tournament against Uruguay), Rodriguez also made 2 assists for his teammates and averaged 2 key passes during the tournament. It will be interesting to see how Real Madrid can fit Rodriguez into an already star studded lineup next season.
Right Wing: Ahmed Musa
Nigerian Forward Ahmed Musa looks to be a real talent aged only 21. Musa became the first Nigerian to score twice in a single World Cup game against Argentina, in a piece of brilliance only surpassed in the same game by one Lionel Messi. The youngster has already represented his nation 40 times, after making his debut aged 17, and scored 7 International goals. While he has had Champions League experience with CSKA Moscow already in his short career, don't rule out a summer move on the back of such an impressive World Cup.
Striker: Joel Campbell
Arsenal's Costa Rican Forward Joel Campbell had a World Cup to remember in a Costa Rican side which more than exceeded expectations in the tournament. We got a glimpse of Campbell's ability last season in Olympiakos' Round of 16 Champions League meeting with Manchester United, with Campbell scoring a fantastic long distance curling effort to put the Greek side 2-0 up in the first leg. Campbell scored 8 League goals last season, and earned a starting place in Brazil as a result. A goal and an assist in the tournament have furthered Campbell's claims to be a first teamer next season with Arsenal.
Left Wing: Memphis Depay
PSV's Memphis Depay could be Holland's next big thing. The 20 year old had a breakthrough season in the Eredivisie this season, scoring 14 goals and getting 10 assists in all competitions for his club. His rise to prominence has resulted in a host of top clubs reportedly chasing the Winger, including Tottenham, Real Madrid, Liverpool and Manchester United. Depay came on for the Dutch for his 7th international cap against Australia in Brazil, and scored a superb match winning goal from 25 yards out to make it 3-2, and in turn guarantee Netherlands progression out of the group stages a match early. Depay then scored again against Chile to double his tally. As a Left Winger, his electric pace and skilled dribbling (averaging over 3 successful take ons per game) has already seen him compared to a young Cristiano Ronaldo in his native Holland.
Bundesliga 2014 World Cup XI
Germany had a fine World Cup in more ways than one. Not only did their national team win the World Cup in historic style, but their national league, the Bundesliga, saw the rise to prominence of many of its young stars. A number of sides featured some incredibly talented Germany-based players, while the German squad itself contained no fewer than 16 Bundesliga men dotted around the country. With this in mind, then, what would a World Cup best XI look like if made up purely of Bundesliga players?
Manuel Neuer – FC Bayern München – Goalkeeper
Manuel Neuer is an easy choice for the position of goalkeeper, his fine tournament already eclipsing the relatively average Diego Benaglio of Wolfsburg before officially winning the Golden Glove, while the likes of Yann Sommer, Roman Weidenfeller, Roman Bürki, Daniel Davari (now of Grasshoppers, but Braunschweig's first choice goalkeeper last season) and Ron-Robert Zieler were all consigned to the bench.
Neuer's strength in goal was confirmed with several stunning saves, especially in the latter stages, as he kept Germany in the game against Algeria in a surprisingly pulsating Second Round tie, while he withstood a French barrage late on in the Quarter Final before producing one of his best performances in the final. One area which delighted more than ever, though, was his role as a sweeper keeper, quite literally taking defending into his own hands as the German high line faltered at stages in the tournament. Neuer's quick thinking and fleet-footedness may not have added to his save ratio, which already stood at an impressive four saves per goal conceded, but it definitely prevented Germany from conceding more goals than they did, as Neuer kept four clean sheets during the tournament, including against Argentina in the final.
Fabian Johnson – Borussia Mönchengladbach – Right Back
Lauded early on as the best full back of the competition, a number of big clubs will have been rueing not picking up Fabian Johnson on a free from 1899 Hoffenheim at the end of this season; FC Barcelona were even linked with a multi-million Euro move for the American, before he's even linked up with new club, Borussia Mönchengladbach, for pre-season training.
As it is, he'll stay with the Foals, which will no doubt please fans and his teammates alike. Johnson's marauding runs were one of the only dangerous elements of a relatively blunt USA attack, and this was typified in Johnson's man of the match performance in the 2-2 draw with Portugal, as he stretched the weakened Portuguese backline all night long. With an incredible passing percentage for a player whose game relies a lot on crossing – 77% – and having won all his attempted tackles and more than half his take-ons throughout the tournament, Johnson can quite rightly lay claim to being the best Bundesliga-based right back of the 2014 World Cup, as the other contender, Philipp Lahm, was very poor in a midfield berth for most of the tournament, before successfully moving back to his usual position.
Sokratis Papastathopoulos – Borussia Dortmund – Centre Back
It's hard to overstate how far Sokratis has come along in the past year at Borussia Dortmund. Joining largely as cover for both centre and right back, the Greek centre back has cemented himself as an important part of the defensive puzzle at the Westfalenstadion, and confirmed his name on the World stage in Greece's surprise run to the Round of 16, where he scored a dramatic last-gasp equaliser against Costa Rica.
Papastathopoulos was the lynchpin of the Greek defence, attempting successfully to control a number of opposition defenders. Given that Greece conceded 5 goals throughout, he did this rather successfully, and this was typified in the second game against Japan when, against ten men, Sokratis marshalled a defence which kept a clean sheet despite Japan's technical and attacking prowess.
Mats Hummels – Borussia Dortmund – Centre Back
It's absolutely impossible to not include the German centre back supremo Mats Hummels in the team of the tournament – and even more so in the Bundesliga team. Hummels was probably Germany's most consistent outfielder despite playing with a knee injury through the whole tournament; his goals against Portugal and France were some of the most important of Germany's entire campaign, starting off their tally for the tournament and in arguably their toughest game before the final, while a tiring, very clearly injured Hummels quite easily held the likes of Agüero, Messi and Palacio at bay despite being exposed by the hapless Benedikt Höwedes and not being able to walk very well.
One area which characterised Hummels' tournament was his elegance and confidence on the ball. Completing 87% of his passes, it's easy to see why he's Germany and Dortmund's first choice on the team sheet at centre back, as he can be relied on to distribute the ball as well as any midfielder could. His slight lack of pace wasn't exposed all too much – a few Messi bursts in the final aside – because of his incredible positional play, which even manage to accommodate Per Mertesacker in a high defensive line. Who knew that could work?
Ricardo Rodriguez – VfL Wolfsburg – Left Back
It's quite telling that, in Switzerland's first game against Ecuador, Switzerland didn't create anything of note until Xherdan Shaqiri relinquished the taking of set pieces to Rodriguez, the set piece specialist in the Swiss set-up. That paid immediate dividends, the Wolfsburg full back setting up Admir Mehmedi for a sensational equaliser with his first corner of the game. Unlike many dead ball men, though, Rodriguez is dangerous from open play too, setting up the Haris Seferovic winner in the same game, too.
One thing which was made abundantly clear in the Bundesliga this season is that Rodriguez is far too good to stay at Wolfsburg forever, and having built upon that reputation this summer he'll no doubt continue to be linked with clubs such as Chelsea for the foreseeable future. His style in the tournament, very similar to that of fellow Bundesliga XI member Fabian Johnson, will no doubt have impressed pretty much anyone who watched Switzerland play.
Bastian Schweinsteiger – FC Bayern München – Central Midfielder
Bastian Schweinsteiger has been criticised and maligned as a player not made for the big games by some (albeit ignorant) sections of the press up until the past year or so, after a handful of spectacular big game failures in the 2010 World Cup, Euro 2012 and of course that Champions League "finale dahoam" against Chelsea. What a way, then, to consign that waffle to the past. Schweinsteiger obviously began to shake off that reputation as a bottler with Bayern's treble in 2013, but this World Cup title will be all the sweeter for one of the lynchpins of the Germany team.
Schweinsteiger was instrumental in the final, covering virtually every blade of grass despite his advancing years. His range of passing and bravery in the tackle set him apart from his teammates and the opposition; while his stats may often look marginally less impressive than Philipp Lahm's, Schweinsteiger actually attempts passes that are longer than about 5 yards, while he also created several good chances from his deep midfield position. A worthy Champion.
Toni Kroos – then of FC Bayern München – Central Midfielder
It's hard to overlook Toni Kroos for the second of the three central midfield berths in the side, purely because of his incredible performance against Brazil in the semi-final. Sure, Kroos isn't actually a Bundesliga man anymore, having made the switch to Real Madrid the other day, but for the whole of the World Cup he was a Bayern man, and the alternatives in this slot are Ja-Cheol Koo and Luiz Gustavo, both of whom had poor World Cups, so we'll just have to run with it.
Kroos' three assists – two of which came in the latter stages, against France and Brazil – and his two goals typified his importance to the German side, who, after Kroos went missing somewhat in the final against Argentina, lacked the bite going forward they did when Kroos was playing balls into them. What is very clear when one looks at Toni Kroos' game is that he is a player who is incredible with the ball, completing a ridiculous 90% of passes – a large proportion of which were quite long passes, rather than the 5-yard pap mentioned earlier. His positional play is also very good for a player who isn't perhaps seen as a natural number 6 – most experts agree he slots in somewhere between a natural defensive midfielder and a number 10, maybe in the mould of the Frank Lampard of old – and of course, fourteen chances created over seven games isn't to be sniffed at. Great tournament for Kroos.
Kevin de Bruyne – VfL Wolfsburg – Central Midfielder
Kevin de Bruyne was easily Belgium's best player in their World Cup campaign, scoring potentially the most important goal of it to, the opener in extra time against the United States. De Bruyne played as a central midfielder for vast swathes of the tournament, flittering into attacking midfield at stages too, which means in this team he's the furthest forward midfielder, but ultimately it was actually his play from deep that has actually cemented his place in the team, with Belgium's attack well below par, if you consider the sort of talent it consists of.
De Bruyne played the role of creator for Belgium more often than not – creating no less than sixteen chances over the course of five matches, which outclassed the likes of the highly-rated Eden Hazard (who created thirteen). One weak area was his weakness in the challenge, losing take-ons more often than not, but even so, this was bypassed by his excellent passing, which clocked in at an impressive 80%.
Thomas Müller – FC Bayern München – Right Winger
It's hard to know whether to considering Thomas Müller as a striker or a wide-man in the context of the 2014 World Cup, given that he pretty much spent half his playing time in each position. His five goals weren't enough to pick up a second Golden Boot, but did propel his side to the final, alongside his assists in vital games against Ghana, Algeria and Brazil.
As such we've opted to go for a relatively fluid front three, with both wingers playing very narrowly. This should suit Thomas Müller quite well, whose ability to find space is second to none in the German side, while playing centrally limits his combination plays with the full backs a little too much to help his side offensively down the wings. A hat-trick against Portugal is what will be remember, but working in tandem with Philipp Lahm against Argentina was arguably his finest hour in the 2014 World Cup if you consider the amount of chances created.
Arjen Robben – FC Bayern München – Left Winger
Like with Mats Hummels, it's pretty much impossible to not have Arjen Robben in any World Cup 2014 team, let alone a Bundesliga one. The Dutch attacker, deployed by his country largely as a second striker, was in inspired form throughout the tournament, scoring three goals and assisting another. Most strikingly, however, the shot-happy Robben actually only registered one shot off target in all seven games – compared to 9 which hit the target – while he created an incredible 17 chances, a high for any player in this team. There's every indication he'd work very well in this team, especially when you consider his prior experience of playing with half of the team, too.
Despite being 30 years of age, Robben is also still a speedster – while that "record sprint" against Spain didn't turn out to be a record after all, Robben still attempted 50 take-ons, completing 34 successfully, which is an astonishing statistic. Robben showed at the World Cup that he's matured like a fine wine over the past few years, and at this rate you wouldn't rule out seeing him in Russia next time around.
Admir Mehmedi – SC Freiburg – Striker
The toughest position to pick in the team. Not because of a wealth of talent to choose from, but actually because there's very little to pick from. Mario Mandzukic left Bayern before the tournament ended, and only played twice anyway, while Germany didn't even bother to take a striker from the Bundesliga to the World Cup and Leverkusen's duo of Heung-Min Son and new boy Josip Drmic flattered to deceive. Admir Mehmedi is pretty much the last man standing in a tournament which didn't really end well for strikers anyway, and, despite playing as a wide man for vast swathes, is arguably the most successful Bundesliga striker at the tournament.
Is this taking away from his performances a bit? Yeah. It must be stated that Admir Mehmedi was excellent in an unfamiliar position, in a team which fell short of expectations somewhat. His first touch of the tournament – against Ecuador – resulted in a goal, and this was arguably his high point of the World Cup, but the Freiburg man also toiled to some reward against Honduras, and worked very hard to keep Argentina at bay too. Plus, viewers of the Bundesliga will know very well how talented Mehmedi is – it's not like he's a random pick.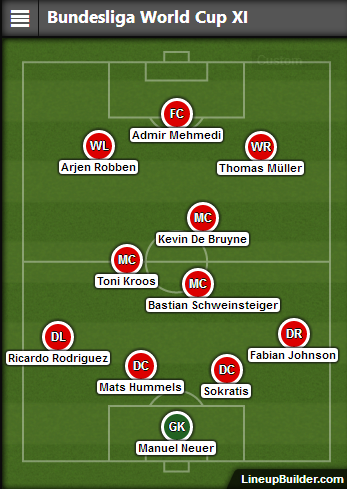 Well, there we have it! An exciting, attacking 4-3-3 befitting of an exciting, attacking league.