Bundesliga 2014 World Cup XI
Germany had a fine World Cup in more ways than one. Not only did their national team win the World Cup in historic style, but their national league, the Bundesliga, saw the rise to prominence of many of its young stars. A number of sides featured some incredibly talented Germany-based players, while the German squad itself contained no fewer than 16 Bundesliga men dotted around the country. With this in mind, then, what would a World Cup best XI look like if made up purely of Bundesliga players?
Manuel Neuer – FC Bayern München – Goalkeeper
Manuel Neuer is an easy choice for the position of goalkeeper, his fine tournament already eclipsing the relatively average Diego Benaglio of Wolfsburg before officially winning the Golden Glove, while the likes of Yann Sommer, Roman Weidenfeller, Roman Bürki, Daniel Davari (now of Grasshoppers, but Braunschweig's first choice goalkeeper last season) and Ron-Robert Zieler were all consigned to the bench.
Neuer's strength in goal was confirmed with several stunning saves, especially in the latter stages, as he kept Germany in the game against Algeria in a surprisingly pulsating Second Round tie, while he withstood a French barrage late on in the Quarter Final before producing one of his best performances in the final. One area which delighted more than ever, though, was his role as a sweeper keeper, quite literally taking defending into his own hands as the German high line faltered at stages in the tournament. Neuer's quick thinking and fleet-footedness may not have added to his save ratio, which already stood at an impressive four saves per goal conceded, but it definitely prevented Germany from conceding more goals than they did, as Neuer kept four clean sheets during the tournament, including against Argentina in the final.
Fabian Johnson – Borussia Mönchengladbach – Right Back
Lauded early on as the best full back of the competition, a number of big clubs will have been rueing not picking up Fabian Johnson on a free from 1899 Hoffenheim at the end of this season; FC Barcelona were even linked with a multi-million Euro move for the American, before he's even linked up with new club, Borussia Mönchengladbach, for pre-season training.
As it is, he'll stay with the Foals, which will no doubt please fans and his teammates alike. Johnson's marauding runs were one of the only dangerous elements of a relatively blunt USA attack, and this was typified in Johnson's man of the match performance in the 2-2 draw with Portugal, as he stretched the weakened Portuguese backline all night long. With an incredible passing percentage for a player whose game relies a lot on crossing – 77% – and having won all his attempted tackles and more than half his take-ons throughout the tournament, Johnson can quite rightly lay claim to being the best Bundesliga-based right back of the 2014 World Cup, as the other contender, Philipp Lahm, was very poor in a midfield berth for most of the tournament, before successfully moving back to his usual position.
Sokratis Papastathopoulos – Borussia Dortmund – Centre Back
It's hard to overstate how far Sokratis has come along in the past year at Borussia Dortmund. Joining largely as cover for both centre and right back, the Greek centre back has cemented himself as an important part of the defensive puzzle at the Westfalenstadion, and confirmed his name on the World stage in Greece's surprise run to the Round of 16, where he scored a dramatic last-gasp equaliser against Costa Rica.
Papastathopoulos was the lynchpin of the Greek defence, attempting successfully to control a number of opposition defenders. Given that Greece conceded 5 goals throughout, he did this rather successfully, and this was typified in the second game against Japan when, against ten men, Sokratis marshalled a defence which kept a clean sheet despite Japan's technical and attacking prowess.
Mats Hummels – Borussia Dortmund – Centre Back
It's absolutely impossible to not include the German centre back supremo Mats Hummels in the team of the tournament – and even more so in the Bundesliga team. Hummels was probably Germany's most consistent outfielder despite playing with a knee injury through the whole tournament; his goals against Portugal and France were some of the most important of Germany's entire campaign, starting off their tally for the tournament and in arguably their toughest game before the final, while a tiring, very clearly injured Hummels quite easily held the likes of Agüero, Messi and Palacio at bay despite being exposed by the hapless Benedikt Höwedes and not being able to walk very well.
One area which characterised Hummels' tournament was his elegance and confidence on the ball. Completing 87% of his passes, it's easy to see why he's Germany and Dortmund's first choice on the team sheet at centre back, as he can be relied on to distribute the ball as well as any midfielder could. His slight lack of pace wasn't exposed all too much – a few Messi bursts in the final aside – because of his incredible positional play, which even manage to accommodate Per Mertesacker in a high defensive line. Who knew that could work?
Ricardo Rodriguez – VfL Wolfsburg – Left Back
It's quite telling that, in Switzerland's first game against Ecuador, Switzerland didn't create anything of note until Xherdan Shaqiri relinquished the taking of set pieces to Rodriguez, the set piece specialist in the Swiss set-up. That paid immediate dividends, the Wolfsburg full back setting up Admir Mehmedi for a sensational equaliser with his first corner of the game. Unlike many dead ball men, though, Rodriguez is dangerous from open play too, setting up the Haris Seferovic winner in the same game, too.
One thing which was made abundantly clear in the Bundesliga this season is that Rodriguez is far too good to stay at Wolfsburg forever, and having built upon that reputation this summer he'll no doubt continue to be linked with clubs such as Chelsea for the foreseeable future. His style in the tournament, very similar to that of fellow Bundesliga XI member Fabian Johnson, will no doubt have impressed pretty much anyone who watched Switzerland play.
Bastian Schweinsteiger – FC Bayern München – Central Midfielder
Bastian Schweinsteiger has been criticised and maligned as a player not made for the big games by some (albeit ignorant) sections of the press up until the past year or so, after a handful of spectacular big game failures in the 2010 World Cup, Euro 2012 and of course that Champions League "finale dahoam" against Chelsea. What a way, then, to consign that waffle to the past. Schweinsteiger obviously began to shake off that reputation as a bottler with Bayern's treble in 2013, but this World Cup title will be all the sweeter for one of the lynchpins of the Germany team.
Schweinsteiger was instrumental in the final, covering virtually every blade of grass despite his advancing years. His range of passing and bravery in the tackle set him apart from his teammates and the opposition; while his stats may often look marginally less impressive than Philipp Lahm's, Schweinsteiger actually attempts passes that are longer than about 5 yards, while he also created several good chances from his deep midfield position. A worthy Champion.
Toni Kroos – then of FC Bayern München – Central Midfielder
It's hard to overlook Toni Kroos for the second of the three central midfield berths in the side, purely because of his incredible performance against Brazil in the semi-final. Sure, Kroos isn't actually a Bundesliga man anymore, having made the switch to Real Madrid the other day, but for the whole of the World Cup he was a Bayern man, and the alternatives in this slot are Ja-Cheol Koo and Luiz Gustavo, both of whom had poor World Cups, so we'll just have to run with it.
Kroos' three assists – two of which came in the latter stages, against France and Brazil – and his two goals typified his importance to the German side, who, after Kroos went missing somewhat in the final against Argentina, lacked the bite going forward they did when Kroos was playing balls into them. What is very clear when one looks at Toni Kroos' game is that he is a player who is incredible with the ball, completing a ridiculous 90% of passes – a large proportion of which were quite long passes, rather than the 5-yard pap mentioned earlier. His positional play is also very good for a player who isn't perhaps seen as a natural number 6 – most experts agree he slots in somewhere between a natural defensive midfielder and a number 10, maybe in the mould of the Frank Lampard of old – and of course, fourteen chances created over seven games isn't to be sniffed at. Great tournament for Kroos.
Kevin de Bruyne – VfL Wolfsburg – Central Midfielder
Kevin de Bruyne was easily Belgium's best player in their World Cup campaign, scoring potentially the most important goal of it to, the opener in extra time against the United States. De Bruyne played as a central midfielder for vast swathes of the tournament, flittering into attacking midfield at stages too, which means in this team he's the furthest forward midfielder, but ultimately it was actually his play from deep that has actually cemented his place in the team, with Belgium's attack well below par, if you consider the sort of talent it consists of.
De Bruyne played the role of creator for Belgium more often than not – creating no less than sixteen chances over the course of five matches, which outclassed the likes of the highly-rated Eden Hazard (who created thirteen). One weak area was his weakness in the challenge, losing take-ons more often than not, but even so, this was bypassed by his excellent passing, which clocked in at an impressive 80%.
Thomas Müller – FC Bayern München – Right Winger
It's hard to know whether to considering Thomas Müller as a striker or a wide-man in the context of the 2014 World Cup, given that he pretty much spent half his playing time in each position. His five goals weren't enough to pick up a second Golden Boot, but did propel his side to the final, alongside his assists in vital games against Ghana, Algeria and Brazil.
As such we've opted to go for a relatively fluid front three, with both wingers playing very narrowly. This should suit Thomas Müller quite well, whose ability to find space is second to none in the German side, while playing centrally limits his combination plays with the full backs a little too much to help his side offensively down the wings. A hat-trick against Portugal is what will be remember, but working in tandem with Philipp Lahm against Argentina was arguably his finest hour in the 2014 World Cup if you consider the amount of chances created.
Arjen Robben – FC Bayern München – Left Winger
Like with Mats Hummels, it's pretty much impossible to not have Arjen Robben in any World Cup 2014 team, let alone a Bundesliga one. The Dutch attacker, deployed by his country largely as a second striker, was in inspired form throughout the tournament, scoring three goals and assisting another. Most strikingly, however, the shot-happy Robben actually only registered one shot off target in all seven games – compared to 9 which hit the target – while he created an incredible 17 chances, a high for any player in this team. There's every indication he'd work very well in this team, especially when you consider his prior experience of playing with half of the team, too.
Despite being 30 years of age, Robben is also still a speedster – while that "record sprint" against Spain didn't turn out to be a record after all, Robben still attempted 50 take-ons, completing 34 successfully, which is an astonishing statistic. Robben showed at the World Cup that he's matured like a fine wine over the past few years, and at this rate you wouldn't rule out seeing him in Russia next time around.
Admir Mehmedi – SC Freiburg – Striker
The toughest position to pick in the team. Not because of a wealth of talent to choose from, but actually because there's very little to pick from. Mario Mandzukic left Bayern before the tournament ended, and only played twice anyway, while Germany didn't even bother to take a striker from the Bundesliga to the World Cup and Leverkusen's duo of Heung-Min Son and new boy Josip Drmic flattered to deceive. Admir Mehmedi is pretty much the last man standing in a tournament which didn't really end well for strikers anyway, and, despite playing as a wide man for vast swathes, is arguably the most successful Bundesliga striker at the tournament.
Is this taking away from his performances a bit? Yeah. It must be stated that Admir Mehmedi was excellent in an unfamiliar position, in a team which fell short of expectations somewhat. His first touch of the tournament – against Ecuador – resulted in a goal, and this was arguably his high point of the World Cup, but the Freiburg man also toiled to some reward against Honduras, and worked very hard to keep Argentina at bay too. Plus, viewers of the Bundesliga will know very well how talented Mehmedi is – it's not like he's a random pick.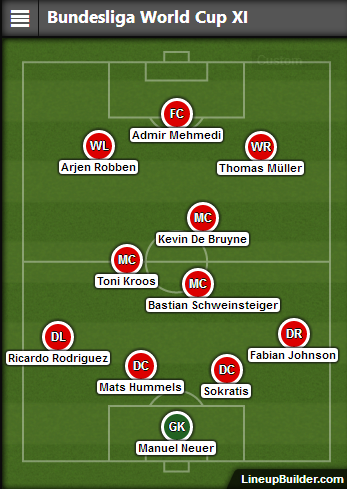 Well, there we have it! An exciting, attacking 4-3-3 befitting of an exciting, attacking league.
Three talking points as Tottenham secured top spot with a Champions League win over Borussia Dortmund
Tottenham ensured that they progressed to the Champions League knock-out stages as Group H winners after coming from behind to see off Borussia Dortmund in Germany on Tuesday night.
Dortmund – who were reliant on Real Madrid dropping points at Cypriot minnows APOEL Nicosia in the evening's other fixture to stand any chance of progressing to the last 16 – took the early advantage when Pierre-Emerick Aubameyang finished smartly from Andriy Yarmolenko's clever flick.
Mauricio Pochettino's side nearly crafted an equaliser before the break, only for both Christian Eriksen and Eric Dier to be denied in the space of a few minutes after superb work by 'keeper Roman Burki.
But it didn't take long for the visitors to draw level in the second-half, with Harry Kane afforded too much space on the edge of the box as he arrowed an effort into the corner with his first real chance.
Son Heung-min's effort 15 minutes from time, a fine curling finish after tenacious work from Dele Alli, then sealed the turnaround and condemned the hosts to a shock early Champions League exit.
Tottenham bounce back after derby disappointment
After Saturday's harrowing and disappointing defeat to old foes Arsenal, manager Mauricio Pochettino summed up Tuesday's performance perfectly by labelling it as the 'perfect reaction'.
It is hard to disagree with the Argentinian either, with his side displaying far more grit, determination and character at the Westfalenstadion to forget about their Premier League defeat and come from behind to beat a strong Borussia Dortmund outfit, securing their surprise status as Group H winners.
It seemed like they were suffering a North London derby hangover of sorts when Pierre-Emerick Aubameyang fired the hosts in front on the half-hour mark, but Spurs dug deep and showed that they are aiming to do more than just make up the numbers in the Champions League this campaign.
All of a sudden they burst into life after the break, with Harry Kane and Dele Alli – who were both anonymous at the Gunners – getting involved more and causing problems for a tiring home defence.
It was the former who levelled things up when Kane's neat low drive found the back of the net, signalling his sixth Champions League goal in five appearances this season, whilst Alli was influential in assisting both goals, seeing off two Dortmund defenders before laying off to Son Heung-min for his winner.
It wasn't a match that needed to be won, considering Tottenham had already secured their safe passage into the knock-out stages, but the manner of victory will no doubt send out a message across Europe.
Dortmund's decline ends in Champions League exit
Yet, whilst Tottenham will be buoyant and nervously await the draw for the last 16 next month, Borussia Dortmund will be reflecting on where things went wrong after a dismal European outing this season.
Despite having a number of world-class individuals in their ranks – Aubameyang, Shinji Kagawa, the young Christian Pulisic, Mario Gotze and the injured Marco Reus are all part of the squad at the disposal of manager Peter Bosz – it's been a stuttering season both in Europe and domestically too.
Their inability to beat Cypriot minnows APOEL Nicosia across two matches all-but put an end to any aspirations of knock-out football, and it seems that the Europa League will now be their next destination.
Add this to their woeful Bundesliga form of late, losing four of their last five matches and drawing the other one to leave them nine points adrift of the top of the table, and warning signs are now flashing.
It's all a stark contrast to 2013, the year that the German side fell narrowly short in the Champions League final, and it's clear for all to see that something is fundamentally not right just four years on.
The fact that Aubameyang – who was left out of the Dortmund squad for their Bundesliga defeat at Stuttgart last week after being sanctioned by Bosz – barely celebrated a sublime goal tells its own story of the club's affairs, and it seems that the head coach could be walking on a very fine tightrope.
Pochettino's conundrum after Aurier impresses
One thing that was clear from Pochettino's team selection on Tuesday, other than the clear fact that he was looking for a quick response to the Arsenal defeat by selecting a strong side, was that summer signing Serge Aurier seems to be the preferred right-back option for the Champions League this season.
The £24 million man may have garnered a reputation for being a bit erratic but, contrary to some of his rash moments this season, he played with an element of maturity and care on Tuesday evening.
He certainly warranted his selection at Dortmund, always offering an outlet on the right-wing and constantly finding himself with a wealth of space to run into behind their captain Marcel Schmelzer.
Aurier's delivery was generally accurate too, forcing the Dortmund defence into last-ditch blocks inside their own area with Kane lurking, whilst he kept things compact alongside Davinson Sanchez at the back.
It would no doubt have hurt the Ivorian to have been omitted from the side for the mightily impressive win over Real Madrid after playing in Tottenham's opening three European matches, but on Tuesday's showing he's laid down a marker for rival Kieran Trippier ahead of the knock-out stages.
Considering the question marks hanging over the head of boss Pochettino about whether Kyle Walker could be replaced it's certainly not a bad dilemma to have, and a bit of healthy competition between two viable wide options could prove key for Tottenham as the season goes on.
Analysing Tottenham striker Harry Kane's two-goal heroics against Borussia Dortmund
Much had been written about Harry Kane's barren August, in which he failed to score. However, the drought is well and truly over now September has arrived. Since finding the net for England during the international break, the 24-year-old has rediscovered his scoring boots in spectacular fashion.
His brace against Borussia Dortmund in Tottenham Hotspur's opening Champions League Group H clash was as impressive as it was timely, providing his side with the perfect start to their European adventure and banishing the Wembley Stadium hoodoo.
It's no secret that Tottenham are heavily reliant on Kane (perhaps overly so) to be their chief attacking threat, but he rarely lets them down. Manager Mauricio Pochettino will be relieved that his star man is back to his best.
The England striker had a hand in all three of their goals against Dortmund, setting up Son Heung-min for the first before netting either side of half-time to ensure Spurs sent home their supporters happy.
Both goals underlined Kane's natural ability as a finisher, which has earned him the Premier League's Golden Boot trophy in the previous two seasons. His first was a carbon copy of Son's, cutting in from the left and unleashing a rasping drive that beat Roman Burki at his near post.
Perhaps the Dortmund keeper's positioning was questionable, but such was the power and pinpoint accuracy of Kane's strike that it would have taken some stopping wherever he had been stationed.
Although Dortmund looked vulnerable at the back, their attacking prowess had caused Spurs problems all night and a 2-1 lead seemed precarious. So Kane's second of the night was mightily important because it effectively killed off the game.
After being put through by Cristian Eriksen, Kane still had work to do to create enough space to get his shot away. Once again, the accuracy was such that it left Burki with little chance of preventing it from nestling in the back of the net.
Kane could have completed his hat-trick before he was substituted to a rapturous reception from the Wembley faithful, but the damage had been done. Everyone knows Kane likes to shoot from all areas of the pitch, but opponents seem powerless to stop him.
His two goals from four efforts – as well as an assist – represented an excellent night's work for a man who has grown in stature to become one of the most prolific strikers in Europe. Kane will remain fundamental to Spurs' hopes of honours this season, both domestically and in Europe.
"The Wembley curse is over" – Three things learnt from Tottenham 3-1 Borussia Dortmund
Tottenham may face a tough Champions League group including Real Madrid and APOEL alongside Borussia Dortmund, but they could not have gotten off to a better start than with a 3-1 home victory over the Germans.
Son Heung-Min raced clear in the opening minutes to give Mauricio Pochettino's side the lead, but that lead was quickly pegged back after Andriy Yarmolenko looped an effort over Hugo Lloris and into the corner of the net.
That sparked Harry Kane to life, shrugging off two challenges before firing the ball into the back of the net for a third goal inside 15 minutes. After that the game calmed down as Kane's second goal midway through the second half put the tie to bed.
A late sending off for Jan Vertonghen, who saw a second yellow for a flailing arm, marred things slightly but Spurs still got off to a dream start at Wembley on Wednesday night.
Here are three things that The Boot Room learnt from the game…
The Wembley curse is over
The tag of a Wembley curse has dogged Tottenham at the start of this season, not helped by defeat to Chelsea and a draw with Burnley, but there is no more emphatic way to put an end to such concerns than by wiping the floor with a difficult Champions League opponent.
Tottenham got off to a dream start through Son Heung-Min and even after conceding an equaliser they reacted well to rapidly re-take the lead. Such a win will give a huge confidence boost and Spurs fans will hope that it will remove any Wembley hoodoo too.
Dortmund continue to disappoint
Gone are the days when Borussia Dortmund were a force to be reckoned with in Europe under Jurgen Klopp, but their performances at Europe's most elite level have been underwhelming for some time. At Wembley, they once again failed to deceive.
For all their possession and time on the ball in the Tottenham half, they failed to create many clear cut chances, with even their goal coming courtesy of an inspired strike from distance. Defensively they were poor too, with Tottenham scything the back four apart on the counter attack. Mauricio Pochettino will be confident of qualifying from a tough group on the back of that display.
Fernando Llorente offers an entirely different option
He may only have got a few minutes, but right from the off it was clear that the Spaniard's introduction for Harry Kane would give Tottenham a different dimension in attack. Spurs immediately went for a more direct style with Llorente giving a real focal point in attack.
It's likely that Llorente will have to wait until the Carabao Cup clash with Barnsley next week for his first start in Tottenham colours, but such aerial presence and power could come in handy against sides like his former team Swansea, who his new club face this weekend.