2014: The Year of The Selfie
2014 was an interesting year to say the least. Arsenal finally dusted out the trophy cabinet, Steven Gerrard removed the word "balance" from his dictionary, and Webster decided to add the word "selfie".
Seriously.
Google "selfie".
It has a Wikipedia page and everything.
Log onto Instagram, Twitter, Myspace (if you've recently completed a stint at your local correctional facility), and you'll see for yourself that the world has gone selfie mad.  From your 8-year-old niece to your 70-year-old grandmother, taking selfies is like winning at Hull, everybody's doing it.
There's no greater from of self-indulgence than holding a camera phone above eye level trying to figure out exactly how to squeeze your face into, what you consider, a photo worthy background.
So why wouldn't one of the most team oriented sports in the world embrace this trend with open arms?
The sefie has gone from a goofy way for teenagers to communicate with each other to an international pre, post, and apparently now in-game ritual for footballers everywhere.
This brings us, of course, to last weekend. On a weekend highlighted by Roberto Mancini's face being on the receiving end of a clearance by one of his own players, Francesco Totti decided to make the headlines his. In the 64th minute, the AS Roma striker scored his second goal of the evening with an acrobatic move against rival Lazio to level the score at two all.
After the customary celebratory embrace with his teammates, the 38 year-old then received an iPhone from one of Roma's coaches, ran towards the home fans, puckered up with a duck face a teenage prom queen would envy and snapped a selfie.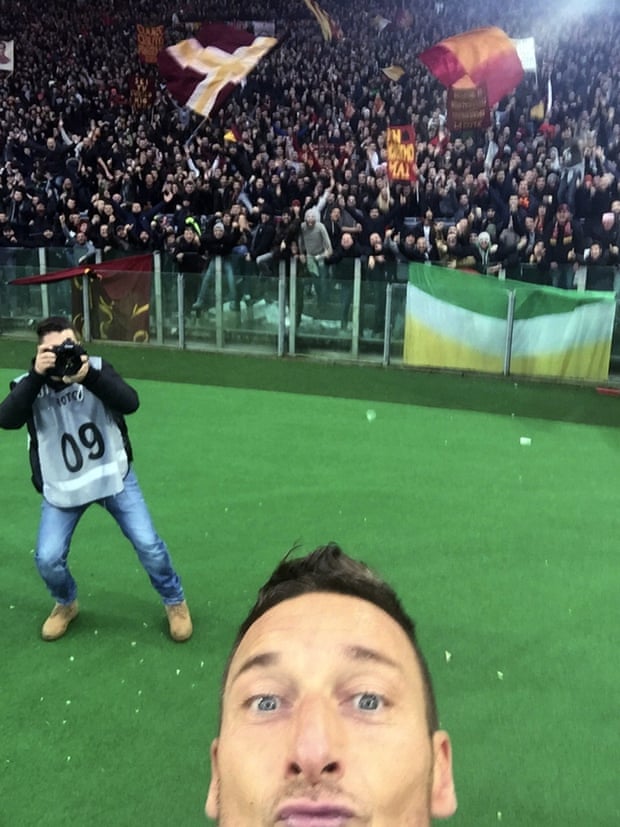 Although it wasn't the first on-pitch selfie ever captured, Francesco Totti isn't just any player, and the Roma v Lazio match is far from your average Serie A fixture. Plus, there was a match to be won. There were still 26 minutes to be played, plus stoppage time. What would've happened had a Lazio forward put one more shot past Morgan De Sanctis, Roma's Italian goalkeeper? Would they have then subsequently snapped a selfie to poke fun at Totti's? All of these factors attributed to the social media hoopla and journalistic craze surrounding this moment.
In 2014 the selfie was king.
As fans we tend to forget that footballers are just like us. I mean, other than the fact that they get paid loads of money to play football. At the core, we're one and the same. Pop culture plays as big a role in our lives as it does theirs, and in 2014 these athletes never hesitated to remind us.
Remember this Wojciech Szczesny post-match selfie? (Spurs fans look away)
Arsenal supporters will.
After a 1-0 victory over rival Spurs, the Polish goalkeeper thought what better way to commemorate this moment while both disrespecting the Spurs supporters simultaneously than with a selfie at White Hart Lane?
And how could we forget the two pitch invaders that decided to run onto the field during a preseason friendly between AC Milan and Manchester City and take a quick selfie with Italian striker Mario Balotelli, who was more than happy to pose for the picture.
It's even gotten to the point where both the Emirates Stadium and White Hart Lane officials have had to ban selfie sticks from their grounds. It won't be long before fans of both clubs sport tie-dye t-shirts and sit in angst outside of both stadiums chanting, "you can ban the sticks, but you can't ban the selfie".
Whether you're pro or anti-selfie, there was no avoiding them in 2014. These instant self portraits remind us that footballers are people too, and if last weekend's incident in Italy taught us anything, it's that older people will always catch onto trends late.
Sevilla 0-0 Manchester United – The Paul Pogba problem remains for Jose Mourinho
Manchester United earned a credible away draw against Sevilla in the first leg of their Champions League tie, but the manner of their performance will be a disappointment. They were reliant on David de Gea, as their goalkeeper made a number of good saves to keep the scoreline at 0-0. It was far from an assured defensive display and there are clearly cracks begin to emerge in the Jose Mourinho era.
Paul Pogba was once again centre of attention as he was left out of the starting eleven for youngster Scott McTominay. The academy graduate had a decent game, but it speaks volumes about Pogba's current relationship with Mourinho.
Although the club will suggest the decision was made due to the Frenchman's recent illness, the midfielder came on in the first half and was clearly fit to play. Here are three talking points from the dull game at the Ramon Sanchez Pizjuan Stadium:
The Paul Pogba problem remains
The past week has been filled with negative press stories regarding Paul Pogba and the midfielder was the centre of attention when the teams were announced. He wasn't in the starting eleven, but was fit enough to take up a place on the bench and came on shortly into the match after an injury to Ander Herrera.
It wasn't his best performance, but he added quality and offered more in the final third than the rest of the Manchester United midfield. If they can get him motivated and settled into a system, they will be a lot stronger for it.
On Wednesday, he completed five dribbles and 90% of his passes. Every time he got on the ball, he tried to be positive and United need a player like that considering their negative style of play.
At the time of writing, it appears that there is only room for one of Paul Pogba and Jose Mourinho at Old Trafford. They clash and their relationship is damaging the rest of the squad.
The focus should have been on the game against Sevilla, but it is on the friction between midfielder and player. If they don't find a solution soon, it could ruin their season.
Joaquin Correa caught the eye
Sevilla aren't the team they once were and the loss of Monchi has had a negative effect on the club. However, there remains a lot of talent in the squad and Joaquin Correa caught the eye on Wednesday.
Every time he got on the ball, Manchester United looked nervous and he was the player most likely to make something happen in the final third.
The winger attempted three shots, completed three dribbles and made one key pass. In a match short of attacking quality, he was a bright spark and got the home fans off their feet.
His movement was superb and there were times when the wrong decision was made in the build-up, which meant the ball didn't arrive at his feet.
Correa seems to be a player well-liked by Vincenzo Montella and he could kick on over the next few months. His end product needs to improve, as he has yet to contribute a goal or assist in La Liga, but he has had better showings in the cup competitions. Across the Champions League and Copa del Rey, he has got six goals and two assists.
David de Gea showed his worth yet again
The world has run out of superlatives to describe David de Gea. The goalkeeper has emerged as one of the leading players in his position since joining Manchester United, if not the best.
The club's decline during the last five or six years would have been sharper if it wasn't for the Spanish international. He regularly bails them out and Wednesday night was no different.
During the contest, he made eight saves, including one superb stop to deny Luis Muriel. The Colombian striker should have done better, but that doesn't take anything away from the work done by De Gea between the sticks. It was an excellent display of anticipation and athleticism as he made a save from point-blank range. Few other keepers in the world would have kept the ball out.
At the age of 27, De Gea has a long future ahead of him and he will want to challenge at the very top of the game. It remains to be seen how long he stays at Old Trafford as the team isn't progressing at the same rate.
Only one player in their team played to their maximum on Wednesday and that was the goalkeeper. Until the rest of the team match him, United aren't going to challenge.
Everton 0-2 Manchester United: Three talking points from Goodison Park
Manchester United managed to return to winning ways with an impressive away victory against Everton. This is a fixture that has caused United with problems down the years and Wayne Rooney was the focus of attention in the build-up as it was going to be only his second appearance against the club since leaving in the summer. It was a quiet one for the forward, as he picked up a yellow card and didn't threaten as much as he would have hoped. The visitors took the three points thanks to strikes from Anthony Martial and Jesse Lingard. Here are three talking points from Goodison Park:
Jesse Lingard continues to impress and deserves his place in the starting eleven
The 25-year-old has been a slow developer, but he looks ready to step up a level and become a regular starter for Manchester United. He has been a good squad player for the club since breaking through as a young player, but he is now ready to make the move up to be a more important player at Old Trafford. He ended 2017 in impressive form and has started the new year in the same vein.
The attacking midfielder scored the second goal of the evening, as he struck an excellent effort to beat Jordan Pickford and put the result beyond doubt. He wasn't short of confidence and looked to take shots at every opportunity. Lingard attempted five shots and his direct approach is one of the reasons he is in the team, as United need more goals from their midfield.
Lingard is an entertaining player to watch and isn't afraid to take responsibility and run with the ball. He completed three dribbles against Everton and caused problems every time he got on the ball. Creatively, he will be hoping to improve during the coming weeks, as he made only one key pass on Monday. At times, his decision making could be improved, but he is headed in the right direction and his form in front of goal means that Jose Mourinho can't drop him.
Everton need to sign a new striker
They didn't have to deal with the return of Romelu Lukaku to Goodison Park as he was missing through injury, but it was clear that Everton need to sign a new striker in January. Oumar Niasse led the line against Manchester United and there was some good movement from him and the rest of the attacking players, but they caused few problems for the opposition when they had the ball.
The 27-year-old hasn't fully convinced any of the three managers that he has played under at the club and it is unlikely that he is going to be the answer up front. There is no criticising his effort, as he was a willing runner and tried to impress, as his four successful dribbles show. However, he doesn't have the required ability to deliver the level of performance that Everton want from their main striker.
Everton have been heavily linked with Besiktas striker Cenk Tosun and there had been speculation that a fee had been agreed, but the Mirror report that the deal is no in danger of collapse. It is a risk to sign a striker from Turkey and expect them to replicate the same form in the Premier League, but he appears to be the club's primary target at the time of writing. If they can't get his transfer over the line, they must move on to other targets. The current striking options aren't good enough for a team with the Toffees' ambition.
Paul Pogba showed why he is important to Manchester United
The French international continues to be doubted by many that like to point towards his huge transfer fee, but his influence can't be understated. Paul Pogba is the most important player in the current Manchester United team. The club haven't lost a Premier League game when the midfielder has played since October 2016. Meanwhile, United have lost five matches without him during this period.
Pogba is a forward-thinking player and is always looking to play positive passes. During the match, he completed five key passes and assisted both goals. As a creative presence from deep, there are few better players in the Premier League and there is hope that he can step up to the next level during 2018. He has been touted as a future Ballon d'Or winner and there is no reason why he can't do that at Old Trafford.
Three talking points from Newcastle United's comeback against West Brom
Newcastle United fought back from 2-0 down to end their losing streak in the Premier League against West Bromwich Albion. They played poorly for much of the game, but their performance in the last 30 minutes has given them something to build on. This was a precious point and one that could be looked back on as a turning point at the end of the season. The Baggies will be disappointed that they weren't able to hold on to the lead and it is crucial that they appoint a new manager sooner rather than later. Here are three talking points from the match:
Aleksandar Mitrovic needs to start
This has been a hotly debated topic on social media as Newcastle supporters have been demanding that Mitrovic is given a chance to start in then Premier League. Since Rafa Benitez was appointed as manager at St James' Park, his relationship with the striker has been rocky. The Spaniard is a control freak and likes to have players that he can trust. He doesn't trust the 23-year-old and that is why he has been on the sidelines. There is no doubting his talent, but he can't be relied upon to carry out the manager's instructions.
In recent matches, Newcastle have offered little in the final third, with Joselu being one of the players that has received most criticism for that. He offers little goal threat and needs to be taken out of the firing line to save what is left of his confidence. Mitrovic offered a lot more when he came on, as he ran the channels and worked hard pressing the opposition defenders. His link-up play was better than Joselu's and he managed to score, although it was disallowed for an earlier offside. Benitez needs to change something in his attack and the Serbian deserves a chance.
Salomon Rondon has a lot more to offer West Brom
There was a lot of excitement when Salomon Rondon signed for West Brom and he has yet to live up to that billing. His performance against Newcastle suggested that he has more to offer the club and that a new manager could be what he needed to fulfil his potential. During the match, he won three aerial duels, completed two dribbles and made one key pass. It was a great display from the striker as he showed intelligent movement and link-up play, playing a huge role in the Baggies attack.
In the first-half, the Venezuelan international hit the bar from range, as he displayed incredible technical skill to scare Karl Darlow in the Newcastle goal. The one disappointment will have been his role in the equalising goal, as Matt Ritchie's free-kick was deflected off the striker, but there was little he could do about it. Overall, it was an encouraging performance and continued his positive momentum since the sacking of Pulis.
Newcastle miss Jamaal Lascelles
There would have been many Newcastle supporters that would not have had Lascelles in their starting eleven this season, despite the centre-back being their captain. The second-half of the Championship season was underwhelming for him, as he made several mistakes and looked nervy in possession. However, he was suffering with a hernia problem and in reflection, it was clearly affecting him on the pitch. This season, he has been one of the stars of this Magpies team and moved into the thinking of Gareth Southgate.
Since the centre-back suffered an injury against Bournemouth, Newcastle have picked up only one point and conceded ten times in only three and a half matches. In the 10 matches prior, the Magpies had only conceded nine goals and it has become evident that Lascelles is key to their survival hopes. They miss the organisation and leadership that he offers, as it brings a calmness to the rest of the team. The sooner he is back, the better for Rafa Benitez and this group of players.